Bernard J. Milano
President and Trustee
KPMG Foundation
Bernard J. Milano is president and a trustee of the KPMG Foundation and president and trustee of the KPMG Disaster Relief Fund.
Bernie graduated from Temple University with a B.S. in accounting and started his career with KPMG in the audit practice of the Philadelphia office. Prior to his current roles as president of the KPMG Foundation and the KPMG Disaster Relief Fund, he held positions of increasing responsibility, including National Partner in Charge of University Relations and National Partner in Charge of Human Resources.
Bernie serves on the boards of numerous academic, community and religious boards including Students In Free Enterprise, Campus Compact, the BCLC affiliate of the U.S. Chamber of Commerce and Trustees on the Newark (N.J.) Episcopal Diocese. He is president and a board member of The PhD Project, a national program to increase racial and ethnic diversity in the workplace.
He lives with his wife, Sharon Pierson, and sons Matthew and Adam in Allendale, New Jersey. Bernie has four older children and six grandchildren. Bernie holds honorary degrees of Doctor of Humane Letters from North Carolina A&T State University and Kent State University.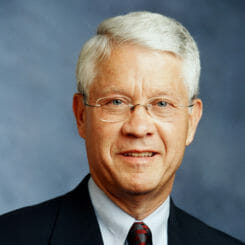 Get Involved & Light the Way