Shannon Garcia
Senior Vice President of U.S. Operations & Siren Retail
Starbucks
As senior vice president of U.S. Operations & Siren Retail, Shannon Garcia and her team drive key operational initiatives in Starbucks Retail stores that elevate the customer and partner (employee) experiences in more than 8,000 retail stores in the United States. Shannon's team focuses on operational excellence that brings the Starbucks Experience to life while creating opportunity to learn and grow as leaders.
Shannon, who has held the role since June 2019, is grounded in a passion for the development of others. This personal inspiration has guided Shannon through a career of building strong teams, creating strategic visions and inspiring partners, customers, and brands alike.
She recently took on additional responsibility of leading the Starbucks' Siren Retail premium segment which provides opportunity to continue innovating and is intended to lay the foundation for the company's next wave of profitable, US growth. In this new role, she will oversee the US expansion of the Starbucks Reserve stores, as well as building out the elements of the Princi partnership.
After starting her career in the financial industry, Shannon discovered that her passion for human connection was best realized through a career change to the restaurant industry.  She quickly shifted gears and was developed through robust experiences in various roles in operations, human resources, training and development, and new store development at Darden Restaurants, the world's largest full-service restaurant company. Shannon left Darden as the Senior Vice President of Operations and joined Starbucks as the Vice President of the Northeast in November 2015 leading operations for the twelve states from Maine to Maryland out to West Virginia.
She lives in Seattle with her husband and three young children. They are an adventurous family who enjoys traveling, exploring cultures and communities, and spending as much time outside as possible. As a native New Englander, her favorite beverage is a grande Cold Brew – even in the winter.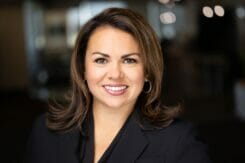 Get Involved & Light the Way