Christine Schoppe
Chief Strategy & Growth Officer
Points of Light
Christine is the chief strategy and growth officer at Points of Light where she is responsible for leading enterprise-wide strategic planning and implementation, acting as a connector across initiatives, people and departments to ensure that strategic targets are delivered on behalf of the enterprise and its mission. Through her leadership during Points of Light's last strategic plan, the enterprise developed the Points of Light Civic Circle, a framework representing the power that every individual has to lead, lend support and take action for the communities and causes they care about and the foundation for Points of Light's 2030 vision. 
In her role at Points of Light, she is also a member of the executive leadership team and is responsible for setting and advancing Points of Light's research agenda, identifying, measuring and reporting enterprise impact measures, driving business development and partnership efforts for enterprise growth initiatives, and supporting companies in achieving their social change goals through efforts that include the Corporate Service Council, The Civic 50 and corporate thought leadership content development.   
Prior to joining Points of Light in 2017, Christine worked at Girl Scouts of the USA in the Office of Strategy & Advancement leading a portfolio of strategic initiatives on behalf of Girl Scouts federation of local councils. She continues to support Girl Scouts of the USA as a National Volunteer Partner and is a proud recipient of the Girl Scout Gold Award. Before entering the nonprofit sector, Christine worked in the financial services sector in derivatives sales & trading. 
Christine received her MBA from Harvard Business School receiving the J. Leslie Rollins Award for exceptional contributions to the community and holds a Bachelor of Science in Engineering with honors from Princeton University. Christine resides in New York City where she is engaged in the theater community as a producer, writer and devoted audience member.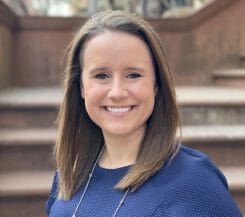 Get Involved & Light the Way