Elizabeth Schwan-Rosenwald
Chief Programs and Network Officer
Points of Light
Elizabeth Schwan-Rosenwald is the chief programs and network officer at Points of Light. Elizabeth is a recognized expert in cross-sector partnerships, skilled volunteering, leadership development and capacity building for the nonprofit sector. She previously served as chief program officer at Common Impact, and has worked with Fortune 500 and 100 companies, government and the social sector to build, lead and advance the use of service and civic engagement as a resource for communities worldwide.
Before joining Common Impact, Elizabeth served as the vice president of supporter relations at Leadership for Educational Equity (LEE), an organization committed to developing leaders to engage civically within their communities to end educational inequity. Prior to joining LEE, she was the chief external relations officer at the Taproot Foundation, overseeing partnerships, marketing and communications. During her nine-year tenure there, she launched and implemented initiatives that advanced the landscape of pro bono, including the strategic partnership component of the build and introduction of Taproot+, an online matching platform for pro bono; Pro Bono Week, an annual worldwide celebration of the impact of business pro bono; and the Global Pro Bono Network, an international association of pro bono providers.
Elizabeth also founded 20% Theatre, an all-women's theatre company dedicated to addressing gender inequity and the power imbalance in the theatre arena. In addition, she founded J.A. Consulting, a practice dedicated to innovation, equity, leadership development, program approach and positioning to enable the achievement of critical social goals.  
Elizabeth holds a BA from Smith College in English and Theatre and is a graduate of the American Express Leadership Academy.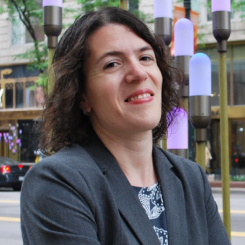 Get Involved & Light the Way