Marty Rodgers
Senior Managing Director
Accenture
Martin Rodgers is senior managing director — U.S. Southeast, responsible for Accenture's business in 10 states, including the key markets of Washington, D.C., Charlotte and Atlanta. In this role, Marty focuses on bringing innovation to clients, attracting top talent and strengthening the company's impact in its communities.
In addition, Marty leads the company's largest office in North America that serves corporate, social sector, and federal clients. It is home to nearly 8,000 employees; the company's global flagship for cybersecurity, the DC Cyber Fusion Center; two digital innovation studios focused on public sector; the Office of the Global CEO and CFO; Accenture Federal Services; Accenture Development Partnerships; Accenture's Nonprofit Practice; and the National Office of Government Relations.
He currently serves on numerous local boards including the Greater Washington Board of Trade, United Way of National Capital Area, Federal City Council, and KIPP-DC. He is also a member of the Economic Club of Washington, D.C., and serves on two national boards, Points of Light and the Children's Defense Fund.
Marty has more than 25 years of federal, commercial, nonprofit and multilateral project management experience. He specializes in business strategy, IT strategy and transformation, change management, program management, business case development and both business and enterprise architectures.
Prior to Accenture, Marty served as a leader in the national and community service and workforce skills fields, crafting numerous pieces of relevant legislation ranging from significant amendments in work-study and service-learning to notable laws including the King Holiday & Service Act of 1994, National & Community Service Trust Act of 1993, and School-to-Work Opportunities Act of 1993.
He is an advocate of social responsibility and committed to diversity awareness and training as well as minority recruiting and awareness. Marty is engaged in HBCU recruiting and is the executive sponsor of the Accenture U.S. African-American employee resource group. He earned a B.A. in economics from the University of Notre Dame, where he serves on the board of trustees and the board of fellows, and an MBA from Harvard University. He lives in Falls Church, Virginia, with his wife and three children.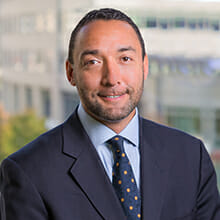 Get Involved & Light the Way