Points of Light Conference
Sign Up for Information About Points of Light Conference 2023
Register today and don't miss any details about Points of Light Conference 2023.
What to Expect at Points of Light Conference
The Points of Light Conference, an annual conference, brings together nonprofit, government, business and civic leaders for inspiration, education and connection. Attendees share the knowledge and resources needed to spark change and drive impact. This gathering strengthens the social sector by curating innovative ideas and proven solutions, while providing networking opportunities.   
The Points of Light Conference main stage moments offer a deep dive into relevant issues, inspire new thinking and entertain. Workshop sessions are delivered by global leaders across the nonprofit, corporate and government sectors from those to new a career in the social sector to seasoned C-level executives.
Thank you for attending the 2022 Points of Light Conference
Whether you joined us onsite or online, it was great being together for three days to reimagine, revitalize and recommit. We have a photo gallery that captured moments throughout the event (via links provided in the post-Conference email). For our attendees, you can still access some exclusive video replays of select sessions through your Bizzabo login for a limited time.

See you in Chicago in 2023!
Exclusive Content for Attendees
If you attended conference this year -- in person or virtually -- you have until August 15 to watch recorded sessions on demand. Log in to your profile to revisit a host of virtual workshops. Watch some of the best moments from conference, including: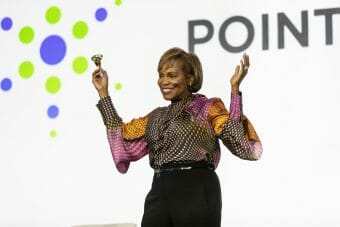 Opening Plenary Panel Discussion
Natalye Paquin, president and CEO, Points of Light, welcomes everyone to Points of Light Conference 2022 and Neil Bush, board chair, Points of Light , leads a panel discussion.
Learn More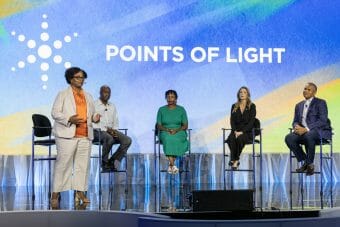 Build a Bigger Table: Creating Dignity in Partnerships
As part of our Civic Talk series, the panelists in this session discussed affecting change, reshaping biases, and accelerating transformation by having the right groups at the table and dignified partnerships.
Learn More