Virtual Volunteerism
Be a #LocalLight in your own community and recognize the impact of volunteers during Global Volunteer Month.
Together, we are a force that transforms the world
Global Volunteer Month was initially conceived to recognize the thousands of people around the world who serve as points of light in their own communities. In light of COVID-19, the need to recognize, inspire and activate volunteers is greater than ever. Society's most vulnerable populations need support and will continue to need support in the weeks and months ahead.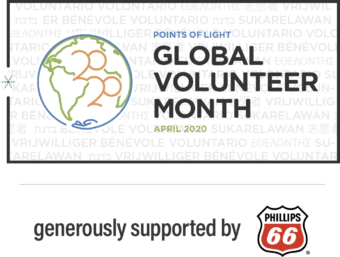 Be a #LocalLight
Discover tools, resources and virtual volunteer opportunities from across the Points of Light Global Network of affiliates and get involved in Global Volunteer Month.
Get Inspired Every Day
Sign up to receive our newsletter.
Make a Donation
When you give to Points of Light, you support the vision of millions of individuals and organizations across the globe helping to solve society's greatest challenges through volunteer service.
Kick-Off Global Volunteer Month From Home with Good Deeds Day
Good Deeds Day is a global day of service that unites people from more than 100 countries to do good deeds for the benefit of others and the planet.
Learn More