About Points of Light
Points of Light is the world's largest organization dedicated to volunteer service.
We envision a society where it is easy for every person to drive change in their community, and in the world. We will be a cultural catalyst, working in partnership with organizations and individuals to build a society where it is impossible to sit on the sidelines. We'll define a new kind of volunteerism for the 21st century, one that calls on people to give their time, talents, voice and resources in service to build a brighter future for all.
Our Mission & Vision
The Points of Light mission is to inspire, equip and mobilize people to take action that changes the world. We envision a world in which everyone discovers the power to make a difference, creating healthy communities in vibrant, participatory societies.
16.7
MILLION
Hours of Volunteer Service Each year
3.7
MILLION
People Engaged Per Year
105
MEMBERS
Corporate Service Council
$499
Million
Annual Dollar Value of Volunteer Hours
The Points of Light Global Network
The Points of Light Global Network includes innovative volunteer-mobilizing and community service organizations who serve more than 145 affiliates across 39 countries around the world. Together we offer creative, impactful and inspiring ways for people to take action and engage in their communities. See the difference we make.
Our History: How Volunteering Became a Movement
In his 1989 inaugural address, our founder President George H.W. Bush shared his vision of "a thousand points of light" — individuals and organizations across the nation helping others through service. Today, Points of Light transcends politics and borders to inspire millions worldwide.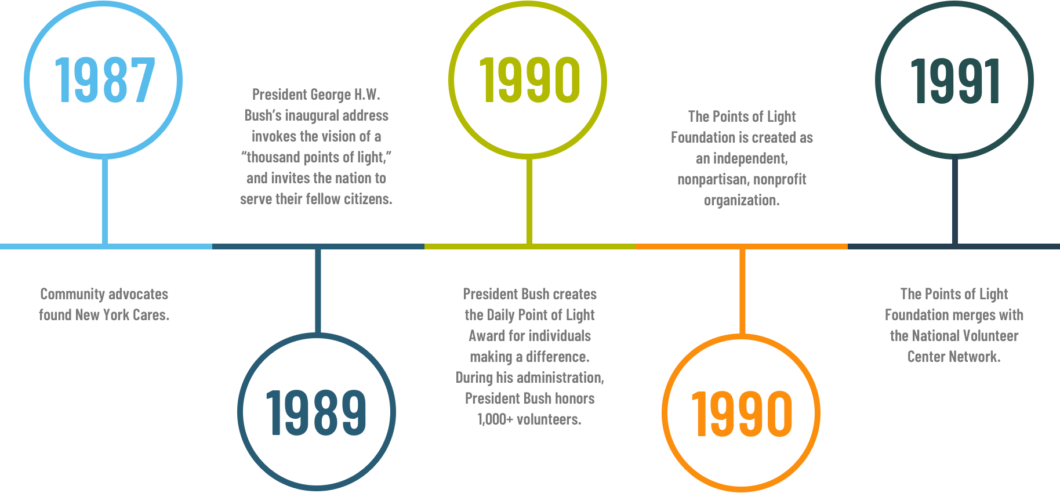 Our People
Meet the Points of Light Team
Learn more about our staff and board members, and how they are shaping the future of service.
Join the Points of Light Team
We mobilize millions around the world by coordinating the efforts of affiliates in 250 cities across 37 countries, and forming partnerships with thousands of nonprofits and corporations. We bring the power of people to bear where it's needed most. Will you join us?
Be Part of a Rich Legacy
As part of our team, you'll tread in the footsteps of presidents, volunteers and points of light in communities around the world, leaving your own mark on an enduring, 30-year history.
Solve Big-Picture Problems
With offices in Atlanta, New York City and Washington, D.C., and initiatives in progress the world over, we solve big problems with big-picture thinking and by working collaboratively.
Enjoy Excellent Benefits
We offer competitive compensation, including a robust PTO program, medical, dental, vision, life insurance, short-term disability and a 403b program with employer match.
Annual Report & Financials
At Points of Light, we are committed to operating with transparency and sharing the meaningful impact of our work with supporters and the public. Your donations make a difference in our mission and we're committed to sharing how these contributions are used to strengthen our efforts.