Youth and Families
Empowering volunteers of all ages to take action that improves the world.
A World Where Everyone Discovers Their Power to Make a Difference
Points of Light recognizes that a passion for volunteerism can be cultivated from a young age. Through our youth division, generationOn, we encourage kids and teens to learn the value of service and volunteerism by giving them tools and resources to make their mark on their communities and the world.
generationOn meets youth and families where they are by creating DIY service projects that are simple to execute and have a big impact, while also teaching children that they have the power to make a difference. We also work with schools and nonprofits to equip them to engage youth and families in volunteering to benefit the community and each other.
Join The Year of Civic Learning
We're emerging from tough times. The desire to contribute has never been stronger and the benefits – support for our communities and a sense of pride and wellbeing for those who share their time and talents – have never been more meaningful.  
In 2022, make a commitment for a "Year of Civic Learning" and in doing so, join a youth-focused, online experience for young people ages 13 and up to ideate, research and develop a plan to positively impact their communities.  
As part of this experience, you will have the opportunity to pitch your community impact ideas at the 2022 Points of Light Conference for a chance to win $2,000! Sign up below.
The learning pathway will include: 
A three-part virtual workshop series to kick-off your journey beginning on Jan. 22, 2022

 

Understanding the 

issues and opportunities impacting your community

 

Understanding how you can make a positive impact in your community

 

Taking a deeper dive into the 

Points of Light Civic Circle

 as a way to support the issues and causes you are most passionate about

 

Designing a community plan, including work continuing beyond the planning and implementation phases

 

Presenting and pitching your project for community, government and funder support – including the chance to win a $2,000 grant!

 
Questions? Contact Us.
Sign Up Today!
Sign up for each session below. If you complete all three, you will receive a certificate of participation!
Disney Family Volunteering Reward Program
Engaging families in volunteer projects helps create and deepen their bonds with each other and with their community. generationOn provides ideas and inspiration to help you figure out the best ways to host family volunteering projects.
Nonprofits and schools that host family-friendly volunteer projects are eligible for rewards! Points of Light and Disney Parks launched the Disney Family Volunteering Reward Program to allow nonprofits and schools the chance to earn tickets to Disney Parks for hosting family volunteer projects.
Learn More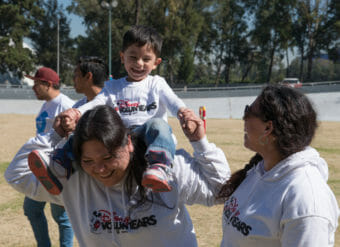 Ideas for Getting Involved
There are many ways to inspire and engage youth at home, in school or in groups. Our DIY projects cover a variety of issue areas to help youth get involved in causes they care about. These projects vary in time and scope. We also engage youth and families through issue-focused campaigns and days of service that provide on-ramps to easy activation!

Visit generationOn to see our upcoming opportunities and events, or find a project that's right for you.