Civic Life Today
A look at American Civic Engagement Amid a Global Pandemic
We are living through historic, extraordinary times
A movement of change has been spurred by a global pandemic and uprising in response to tragedy born of systemic racism. We are at the dawn of a "Civic Century," an age when people become the driving force that transforms our world.
In this moment, we see our challenge as, "How can we create a society where it is easy for every individual to take action and accelerate impact within their community and around the world?"
To best understand current perceptions of civic life and identify a path forward for businesses, nonprofits, and individuals, Points of Light, and our partners Carol Cone and Hart Research, conducted a study this spring, with generous support from AT&T, surveying adults in the United States about their attitudes, behaviors, barriers and motivations for civic engagement. The resulting report is Civic Life Today: A Look at American Civic Engagement Amid a Global Pandemic.
Civic Engagement Research
Understanding the attitudes, behaviors, barriers and motivations when it comes to engaging in civic life.
A Desire to Do Good
This research offers the most current and comprehensive look into the current state of civic engagement, a universal desire to do more in the future, and how we can help convert good intentions into positive action. Through its findings, Points of Light offers timely information and perspective for businesses, nonprofits and other organizations to harness the power of people and their desire to do good.
The findings from the study revealed the following key themes about Americans today:
All areas of civic life will be more important post-COVID-19, as nearly two in five Americans say that after the coronavirus, they will do more to get involved than they did before.
Americans are most encouraged to participate in civic engagement for reasons related to personal fulfillment.
At the time of fielding, Americans were most concerned with addressing issues such as healthcare and hunger through civic engagement.
Gen Z Americans participated in civic engagement at the highest rates compared with other generations.
Those most interested in volunteering have a notably stronger preference for activities that they can do on a regular basis and in person.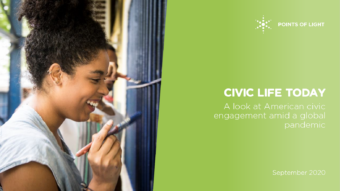 Watch Our Webinar
Points of Light and guests discuss the findings from our latest civic engagement research during our webinar, "Examining the State of American Civic Engagement and the Path Forward for Businesses and Nonprofits to Inspire Service and Volunteerism." Speakers include Jay Campbell, partner, Hart Research; Jenny Lawson, chief civic innovation officer; Points of Light, Carol Cone, founder & CEO, Carol Cone ON PURPOSE; and Natalye Paquin, president & CEO, Points of Light.
Download the Research Now
Enter your information to receive a narrative brief and copy of the full research report. For more information, please contact [email protected]