101-Year-Old Volunteers at Medical Facility for Over Two Decades, Helping Community and Spreading Joy
Meet Daily Point of Light Award honoree Eulala Roettger. Read her story and nominate an outstanding volunteer or family as a Daily Point of Light.
Eulala Roettger has lived on this earth for more than 100 years, and in that time, the Anderson, Indiana resident says, she's lived to serve others, saying volunteering is just "what you do."
Volunteering at the St. Vincent Anderson Erskine Medical Office Building for more than 20 years, Eulala says she started out at the information desk, and her volunteer responsibilities have grown over the years. The centenarian has logged more than 8,500 hours at St. Vincent Anderson, helping patients decades younger than her, serving as an inspiration to others and proving that age is just a number.
What inspires you to volunteer?
I started working as a teacher at a very young age, aged 19, at a time when if there was anything that needed to be done to help outside the academic realm, they gave that job to the teacher. I thought volunteering was what you do. Serving others has been a part of my life.
Describe your role with St. Vincent Anderson Erskine Medical Office Building.
I started as a volunteer in 1998 at the information desk. I volunteer 1-2 days each week, and I do whatever they ask of me in the office. I also help people who need wheelchairs for their visit, and provide information and directions for our visitors.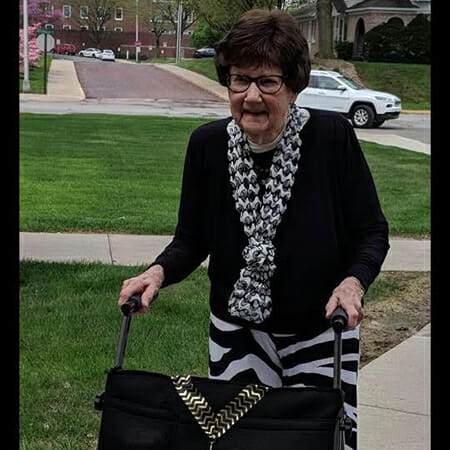 What does it feel like to help others through your volunteering?
When I have a person approach me with a real troubled look on their face, and ask if I can help them, I say 'yes I can'. When I see that troubled face begin to relax, it makes my volunteerism all worthwhile.
Share one personal story with me from your volunteerism.
The day before Christmas last year, there wasn't much activity in the building, but I saw this nicely dressed lady come in, pushing her father in a wheelchair. After a few hours, I watched them leave the building and go out to their car. After about 10 minutes, she came back in. This lady was visiting from out of state to visit her father and escort him to his infusion, but she explained to me that her rental car wouldn't work. She said she didn't know a person in the town, and asked for my help. We arranged for transportation for them so they were able to get home. This lady stood there and kept saying, 'oh I feel so bad, because my father is 92-years-old', and I was probably pushing 100 at that time. I never let them know (laughs).
You're 101-years-old and still volunteering twice a week. What's your secret?
I don't know. I just get up every morning with a purpose. I say, 'today I'm going to do this'. And I guess that's what it is. Some days I feel a little under the weather. We all do. I think that I could stay at home, but then I get myself busy and I forget all about it.
What's one way you hope to inspire others in your service?
When you stay at home you have only yourself for stimulation and watching television. I find when I get out with people, I'm stimulated and I'm buoyed up and it keeps me going. If you want to stay alive and active and mentally alert, find a good volunteer job, one that suits you.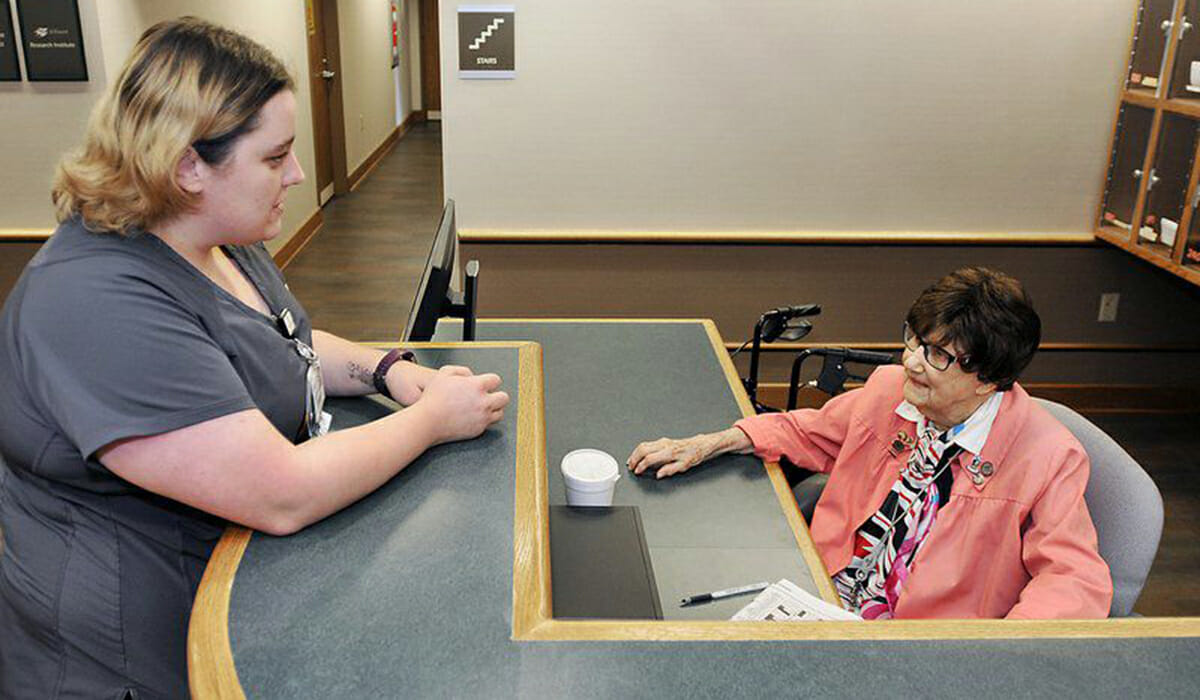 What's been the most rewarding part of your service?
It's been rewarding to make so many friends.
In one word, what does volunteerism mean to you?
Self-satisfaction. I grow and learn by volunteering. Volunteering gives me more than I give.
How can readers help?
If you are interested in volunteering for St. Vincent, please email Elizabeth Hart for more information.
In light of COVID-19, Eulala has had to pause her volunteer activities but looks forward to helping others in more ways in the future.
Do you want to make a difference in your community like Eulala Roettger? Find local volunteer opportunities.
Share this post