Teenager Creates Literacy Packets for Underserved Communities
Meet Daily Point of Light Award honoree, Jordan Grabelle. Read her story and nominate an outstanding volunteer or family member as a Daily Point of Light.
When she was seven years old, Jordan Grabelle helped her older sister run book distributions in lower-income neighborhoods. While volunteering at these events, she noticed that many students in nearby at-risk communities, such as Philadelphia and Camden, read significantly below her grade level. At age 10, she founded Love Letters for Literacy, an innovative nonprofit which promotes literacy among at-risk pre-readers and fosters a love of reading.
"Through my volunteer work, I have been able to experience the satisfaction of playing a role in helping to equalize the educational playing field for children in need," says Jordan. "Serving others has also taught me to become more responsive to the needs of others and to push myself to overcome challenges."
Love Letters for Literacy helps lower-income children obtain resources they need to become capable readers. Volunteers use paper and markers to create 26 flashcards from A-Z, and then present literacy packets to children along with notes from the creator and instructions explaining how to play games with the flashcards.
"These packets make learning the alphabet fun through simple educational games that the whole family can play," says Jordan. "Volunteers and I visit classrooms teaching children how to use the packets following a curriculum."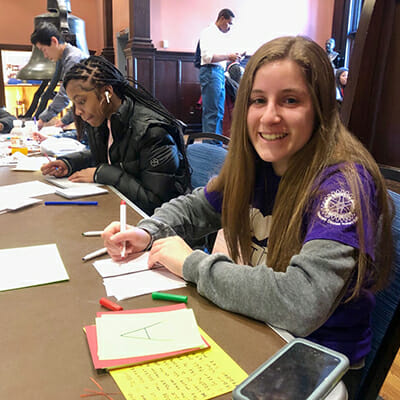 As the Love Letters for Literacy Executive Director, Jordan has dedicated over five years scaling her project from creating all the packets herself for local donations to a global nonprofit that has recruited over 3,350 volunteers to promote literacy in 49 States and 18 countries.
And that's only the start. The Fischler School of Education at Florida's Nova Southeastern University incorporated Love Letters for Literacy into its curriculum, recruiting graduate students to bring the program into classrooms where they student-teach. Jordan looks forward to expanding her work with other graduate and undergraduate education programs.
Love Letters for Literacy currently donates packets to many Head Start programs and is looking to partner with even more this coming year. Finally, they also partner with over 100 various service clubs of all ages such as Circle K Clubs, Kiwanis Clubs, Rotary Clubs and Key Clubs. The nonprofit is constantly in talks with new chapters of the clubs in different countries.
"The feedback I receive from the schools and families who give the literacy packets motivates me to continue volunteering," Jordan says. "Also, the many volunteers who participate in making literacy packets for Love Letters for Literacy each year inspire me to continue."
Jordan believes it is important for others to give back because people have a responsibility to work together to better their communities. She believes paying it forward is the right thing to do and enables people to become more empathetic to the difficulties others face.
Do you want to make a difference in your community like Jordan? Find local volunteer opportunities.
Share this post