16-Year-Old Teen Helps Animals Through Jr. Vet Program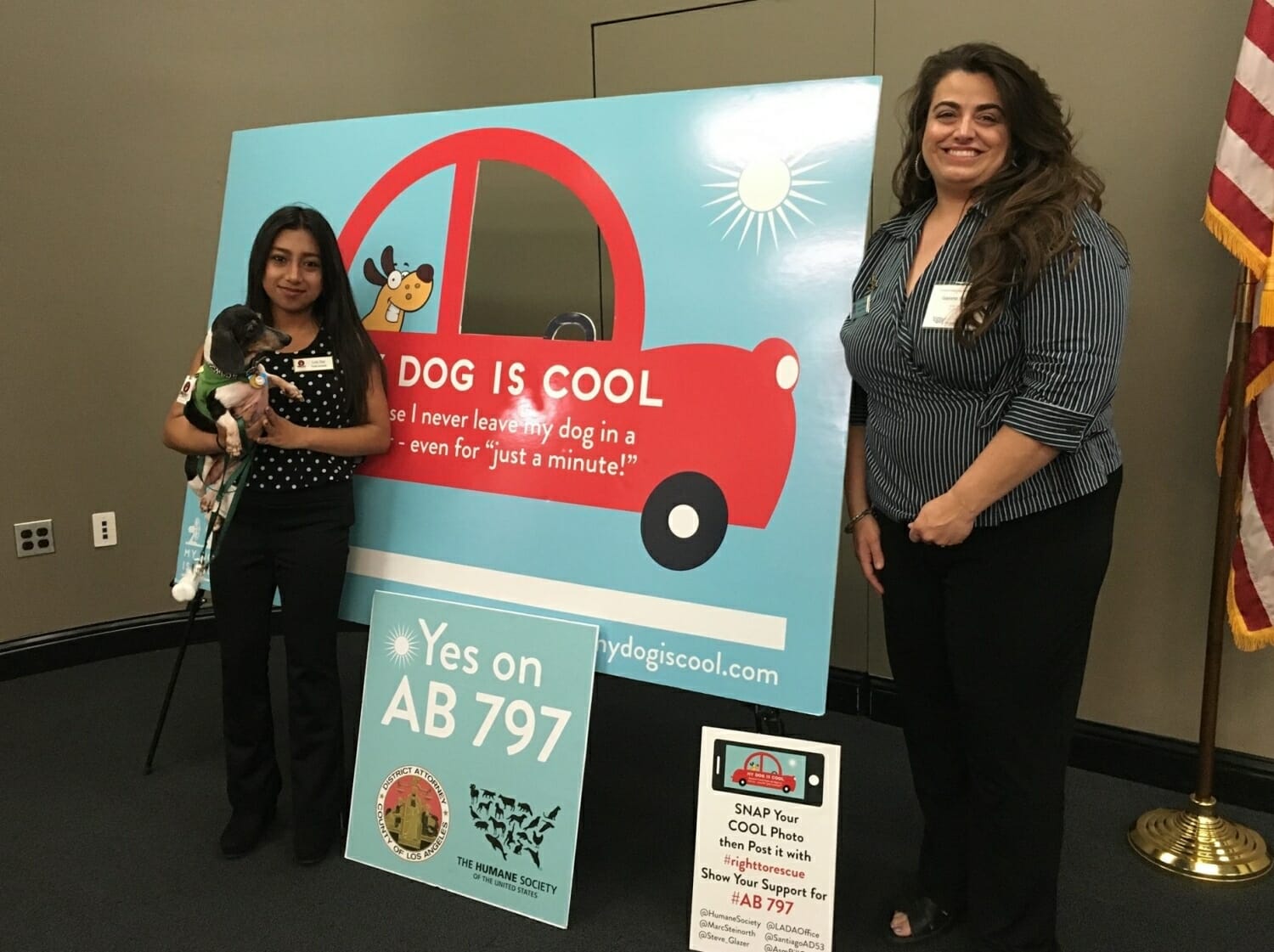 Like so many volunteers, 16-year-old Lesly Diaz treasured her opportunity to give back. But she never imagined that what she learned as a junior vet with DogE911 would spare her own dog's life.
A volunteer with the pet emergency training agency since she was 11, Lesly was able to save her five-year-old dog Shakira's life by recognizing a misdiagnosis confirmed by her DogE911 mentor. Instead of putting her dog down, Lesly and her mom drove three hours to another clinic for treatment. Two years later, Shakira is a healthy and happy pup.
Fueled by her deep love and compassion for animals, Lesly continues to volunteer as a youth assistant in the Jr. Vet Program where she gets a hands-on education about animal preventive care, triage, and disaster response as well as mentors other youth interested in animal well being. Because of her work with DogE911, she plans to study veterinary science, starting in her senior year of high school. Lesly knows from personal experience that volunteering can truly change your world.
Lesly is committed to making a difference in her community and is today's Daily Point of Light Award honoree. Points of Light spoke with Lesly about her commitment to service.
What inspires you to volunteer?
What inspires me is doing what I love. I put my time in working with other youths like me, as well as learning and experiencing real life situations. I get to help others with the things I already know in case of an emergency. Also I get to interact with a lot of different people, I've been volunteering for five and a half years. Volunteering really does make a difference.
Describe your volunteer role with DogE911.
My role under the DogE911 program is being a junior vet. I help assist in events like vending booths, answering questions about our program and animal care. I have also helped with fundraisers for homeless, abused, and neglected animals. I have gone to the state capitol Sacramento a few times to speak with legislators and senators about animal laws, trying to get them to pass the laws.
What has been the most rewarding part of your work?
I was able to save my own dog's life because of what I've learned by volunteering with DogE911, which I'll be forever grateful for. I also work with first responders, helping to train them in case of an emergency. I've helped teach classes like animal triage, first aid kit, massage, etc. Because of my own training, in case of a real life emergency I am able to assist.
What have you learned through your experiences as a volunteer?
I've learned that no matter what the situation is, the time you give to others is very valuable. It's very nice helping others without receiving anything in exchange but a smile on someone else's face. It feels good just helping others.
Are there any future partnerships, programs, or events that you are excited about?
I'm excited for my senior year because I'll be able to take a vet class that will get me ready for my career as a vet behaviorist.
Why do you think it's important for others to give back?
It's important because you don't always know where the help is needed. By just putting your time into something or someone it will definitely show how much you care for your community and you'll get so much out of volunteering along the way.
What do you want people to learn from your story?
To follow your heart and your passion, no matter what problems might get in the way. If you are truly passionate about your future goal, never give up. I always wanted to be a vet, which isn't an easy road. Luckily I got into this junior vet program that has helped me get ready for my career. Even when I'm facing problems and feel discouraged, I know that helping animals is the best thing I can do. They can't do things for themselves, or tell you what the problem is. Animals appreciate what you do for them, even if it's just by showing you unconditional love.
Do you want to make a difference in your community like Lesly? Visit All for Good for local volunteer opportunities.
Share this post