A Child's Hobby Turns into a Source of Warmth and Hope for Animals
Meet Daily Point of Light Award honoree Peyton Daley. Read her story and nominate an outstanding volunteer or family as a Daily Point of Light.  
When Peyton Daley was only 9 years old, she already had a heart for helping animals in need. The now 17-year-old from San Mateo, California, took her former hobby of making and donating blankets to animal shelters and turned it into a nonprofit business. 
When Peyton found herself with more free time during the pandemic, she started selling PawPrint Blankets, and for each blanket sold, she donates one to a shelter or disaster relief organization in order to provide their animals with comfort, the proceeds from the blankets covering the cost of materials. Now, she's even hoping to help pets across the world who had to evacuate Ukraine.  
Describe your volunteer role within PawPrint Blankets.
PawPrints is a nonprofit business, and for every blanket that I sell, I donate one to a local animal shelter. When I was nine years old, I went to an animal shelter and I noticed that a lot of the animals there didn't have bedding. They didn't have enough funding to have beds for all of the pets and blankets.  
So that's when I started making donations. I wasn't able to make that many blankets at first because I had to buy all of the fleece material myself and my parents were helping me, but in the beginning of the COVID-19 pandemic, I had more time during quarantine. I decided to kind of step it up because over the years I haven't really been able to donate as many as I wanted. I decided to move more towards a nonprofit business so that I could make more blankets and donate more to different animal shelters.  
Why are PawPrint Blankets needed at animal shelters?
A lot of shelters don't have blankets for all the animals, they just have them in crates. I've done a bit of research over the years, and I've learned that when there's blankets, animals are more likely to be adopted because they're usually more comfortable around the people that are coming to visit. It's also easier for visitors to picture them in a home setting. So that's why it really helps them get adopted quicker. Blankets also provide them with comfort and warmth.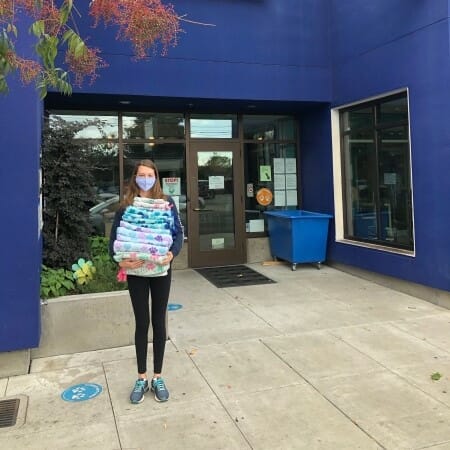 How has PawPrint Blankets grown and what's your hope for its future?
In the beginning of the pandemic after I made my website, I reached out to a lot of different shelters via email and told them about what I was doing. They were all very happy to accept the donations. I also went around to a lot of my neighbors, spoke to my local community members and emailed a lot of pet boutiques and shops. I was able to get my blankets in some of the pet stores around time. I also posted in a couple of shelter's newsletters. It's also grown to reach an animal rescue group, especially when there are wildfires here in California. A lot of pets can get displaced from their owners.  
I'm hoping for the organization to grow by sending even more blankets to areas with natural disasters that need relief. A lot of times like pets are kind of not considered in terms of relief for natural disasters. I've also started donating to a couple of shelters in different areas of the country. When Joe Biden was elected as president, and [presidential pet Major] was the first adopted dog in the White House, I sent some blankets to the shelter that they were adopted from as well, which was kind of fun for me to do. That's why I really, really would like to expand to more shelters around the country like that.  
What inspires you to volunteer?
Receiving pictures from the shelters of all the animals with their blankets and receiving appreciative notes really inspires me to continue and shows me that my work is doing good for the animals because that's definitely always been my goal. It's really great to get to see shelters use the blankets and see new animals using them. I love just seeing the animals all be really comfortable in their temporary home.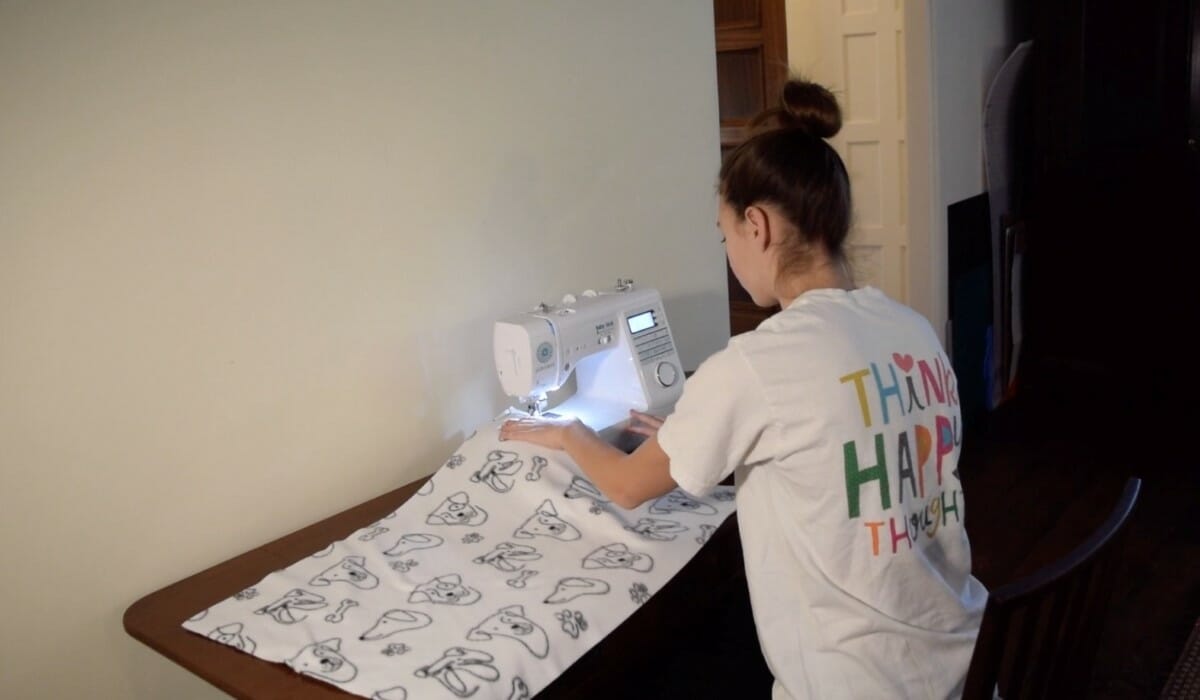 What have you learned through your experience as a volunteer?
The business has really helped me develop much better speaking skills and how to interact with customers and store managers at the pet stores. I've definitely gotten a lot more exposure that way and I've gotten the chance to be more professional and build relationships with stores and other organizations. It's also instilled a lot of passion for community service in me. I'm hoping to continue with this project, and also continue volunteering in other ways as well.  
Why is it important for others to get civically engaged, especially young people and students? 
I think that for high school students, I've noticed that even though we have required service hours for school, a lot of people do them, but don't really find something they're super passionate about. They're kind of just doing volunteer work that isn't necessarily meaningful to them. I think it's really important to find something that's meaningful to you because when you get to see the results of your service, it's very rewarding. It also inspires me to continue donating and to continue my work.  
So I think it's important that everybody finds what they're passionate about in service and what they can relate to. Then they'll want to continue beyond just the bare minimum. 
Are there any partnerships, programs or events that you are excited about?
I've been thinking about trying to donate to some of the disaster relief organizations, especially in Poland dealing with the Ukraine crisis because I know a lot of pets have lost everything. People don't really have the means to take care of their pets anymore, especially coming over the border. So I'm trying to put together donations, and I'm hoping to get other people to help me donate to pay for shipping to ship blankets over there as well. 
Do you want to make a difference in your community like Peyton? Find local volunteer opportunities. 
Share this post