A Love of History and Country Inspires Community
Katelyn King is what some people call an old soul. Wise beyond her years, she took a shine to American history at a young age and has a strong sense of community that belies her years. After winning an essay contest sponsored by her local VFW Post, Katelyn has worked tirelessly to advocate for veterans and their families and raise her voice of support at her school, Butterfield Trail Middle School. Patriotism doesn't have an age bracket, neither does pride of place. Katelyn believes that understanding where we've come from informs where we are going and shows that by supporting local history sites and organizations. She also works with local and statewide organizations to educate youth on the dangers of human trafficking. She believes everyone can help make a difference at any age, and she walks that walk.
Katelyn is committed to making a difference in her community and she is today's Daily Point of Light Award honoree. Points of Light spoke with her about her commitment to service.
What inspires you to volunteer?
It's inspiring to see how very little it takes to make a difference. When I was seven I started volunteering at local historical sites in my community. The fact that people were excited to let me help at such a young age gave me confidence. My love for history set a course that opened many doors to help in small, unexpected ways in my hometown
Describe your volunteer role.
I make informational videos promoting youth and education opportunities for the Robert Jack VFW Post. I speak to schools and youth groups on the importance of patriotism, volunteerism, and veterans' services. I also work with the Auxiliary on special events. So far this year I have participated in the Buddy Poppy program, the tea party for children with Down Syndrome, the Run for a Vet 5K and attended monthly meetings. I also recruit volunteers at my school to work with the VFW on their Vision 2023 program.
I also volunteer with local historical sites in my hometown. I portray Caroline Scott (granddaughter of Van Buren town founder John Drennen), during tours of the family home, a registered historical site. For the historical Fairview Cemetery, I guide a tour called Tales of the Crypt that recounts the lives of local heroes that are buried there.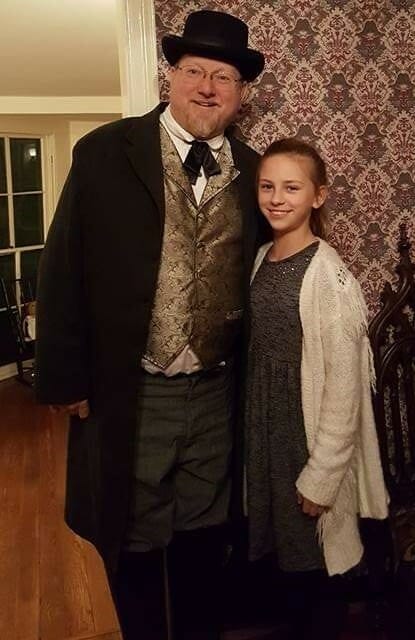 What's been the most rewarding part of your work?
I think the most rewarding thing about volunteering is when I really feel like I made a difference. Even if it's a little thing that's not important to everyone, if it makes a difference to just one person that makes me happy. I always leave feeling better than when I went and feeling like I am more blessed.
What have you learned through your experiences as a volunteer?
I have learned so much! I have learned that EVERYONE matters, EVERYONE has a voice, and that no matter your age or beliefs or wealth you can make a difference in the lives of others.
Are there any future partnerships, programs, or events that you are excited about?
I have some very exciting plans coming up! I am partnering with the VFW Auxiliary and the local police department to hold a safety seminar. My service platform is human trafficking awareness, and I am so excited to bring together leadership and youth to educate them about real life situations and risks that youth face every day. I am also working on partnering with the VFW post and the Veterans Against Trafficking organization for a 5K freedom run to help raise money for local organizations that work with at-risk youth and recovered victims of trafficking.
Why do you think it's important for others to give back?
It takes everyone working together to create a safe and successful community. If I mentor and speak to kids my age and younger then I help promote the community for us. Our teachers mentor and support us; our churches and civic leader provide them with places to bring concerns; our police department and first responders provide services to keep us safe. Everyone has a place, and a very important role, and together we can live in a community that grows and thrives.
What would you like people to learn from your experience?
When volunteering is motivated by a love of something, it's not work at all. My love for history started my love for volunteering. If you pick something you are passionate about, it isn't a job, it becomes part of your life. Wake up every day and put on the best shoes for the job you have planned. Then just start walking the path set before you.
Do you want to make a difference in your community like Katelyn? Click here to find local volunteer opportunities.
Share this post