As an education reporter for The Times-Picayune, the daily newspaper in New Orleans, Aesha Rasheed felt frustrated. Her exposure to the city's mismanaged school district left her wanting to do more to directly help the community. She quit her job in 2005 and began exploring ways to help students and families trapped in an inequitable education system.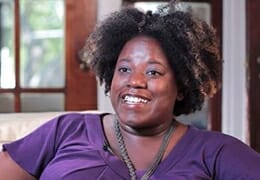 Then, that year on August 29, Hurricane Katrina hit. "Suddenly, it was a different world in New Orleans," says Rasheed. "I had been focused on the right to equal education. After Katrina, all of our 128 public schools closed. More than a year later, fewer than 10 had reopened."
To help displaced and underserved families in New Orleans find out what schools had reopened – and the quality of those schools – Rasheed began to publish the "New Orleans Parent's Guide." Now in its seventh edition, the annual guide is widely regarded as the go-to source of data on New Orleans' public and charter schools.
"Families were trying to return to the city," Rasheed says. "For those with children, the right to return was inextricably tied to the right to quality education."
Eighty percent of New Orleans' schools are now charter schools, with a quilt of organizations providing funds, from national school reform groups to local organizations started by citizens. Rasheed says publishing the "Parent's Guide" to detail those schools was no easy task. First she considered putting it online, but there were still hundreds of families living in the Superdome, the city's enclosed football stadium, and other emergency housing, with no access to the Internet.
"For the first few years, the only way to reach families was through a printed guide distributed by organizations and volunteers," says Rasheed. "We have published 10,000 guides per year, and the response from parents and the school district has been overwhelming" In 2012, Rasheed adds, the school district donated funds to help put out the guide's seventh edition.
This year, a nonprofit organization developed and donated a smart phone application that gives parents access to the guide. And Rasheed has more ambitious goals for 2013, hoping to put out a multilingual edition.
"I can't solve the New Orleans school problem by myself," says Rasheed. "We should all be doing the work of making sure that children are nurtured. The New Orleans Parent's Guide is simply my piece."
Share this post