After Brother's Death, New Yorker Volunteers to Curb Prescription Opioid Deaths
Meet Daily Point of Light Award honoree Marta Michelle Colon, who was a 2020 L'Oréal Paris Women of Worth recipient. Each year L'Oréal Paris and Points of Light recognize and celebrate Women of Worth who make a beautiful difference in their communities. Ten honorees each receive a $20,000 grant to support their most cherished cause, and an online vote determines one honoree who will receive an additional $25,000 grant. Nominations for 2021 are now open! If you know a woman who works to create lasting and significant change in her community, nominate her to be one of the 2021 Women of Worth.
Born on the exact same day, five years apart, Marta Michelle Colon had a special bond with her older brother, Adam. Describing his great sense of humor and kindness, Marta Michelle says her brother was prescribed opioids following a motorcycle accident, first relying on them to ease his pain but quickly beginning to misuse them. After Adam died at age 35, his misuse of prescription opioids contributing to his death, Marta Michelle says she felt broken.
"I felt guilty that I was not able to save him, that I didn't do enough, although I knew I spent countless days supporting him with treatment and with centers and with appointments," says Marta Michelle. "Nothing that I accessed was good enough to help him with his substance use disorder. (It felt like) life played a trick on him. I was left wondering, why do things like this happen, especially to young people, to someone who was so kind, and had a lot of potential?"
Devastated by her personal loss and infuriated by the lack of information available on how the prescription opioid epidemic was affecting the greater Latinx community, Marta Michelle launched Be Gutsy in 2018 to educate adolescents and young adults about the dangers of misusing prescription opioids. Answering the call to deliver awareness, knowledge, support and resources to communities around the United States and in Puerto Rico, Marta Michelle's expanding service is reflective of how widespread the opioid epidemic has become.
"We help individuals, families and communities. I started receiving all these calls saying, 'You impact the Latinx community, but can you come help us in the Asian or Black community?' My answer has been, yes, we'll help whoever needs it."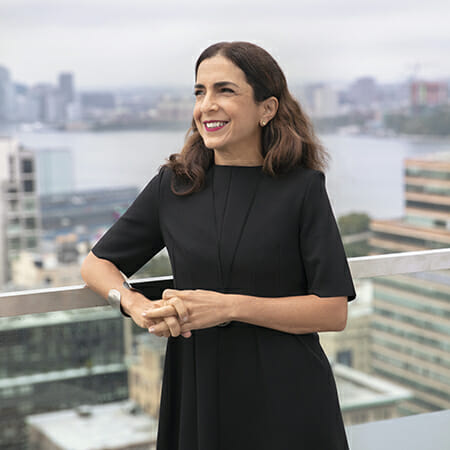 As founder and chief collaboration officer at Be Gutsy, the 50-year-old New York City, New York resident is democratizing the tools to mitigate prescription opioid misuse through awareness initiatives and health care partnerships. Combating rising opioid abuse and deaths, which have quadrupled since 1999, Be Gutsy builds emotional intelligence and social skills for young adults through innovative programs like theater production and mural painting. By emphasizing early intervention, Marta Michelle says her organization is supporting its participants aged 13-29 in addition to addressing the stigma of substance use disorders.
"One of our workshop participants came to me and said she was taking 24 pills to sleep every night. She said she was getting pills from her family and that they didn't think anything was wrong. She was already feeling the physical effects from overmedicating. I advised her to call her physician and share truthfully what was going on, and follow his advice to a T. One and a half months later, she reached out to me asking to be a (Be Gutsy) volunteer. She said she never knew what I'd taught her that day in the workshop, and she said I'd saved her life. She was off medication, she wasn't feeling ill and she was sleeping better. That was three years ago, and she's still a volunteer with us. She's in her second year of college. We all have the opportunity to change someone's path for the best, and (situations like this) break all the stigma that adolescents do not listen. They really want to try and flourish, and we are there to inspire and motivate them."
Directly impacting more than 10,500 adolescents and young adults thus far and indirectly reaching tens of thousands more by raising awareness through health fairs and medical providers, Be Gutsy is empowering generations to raise above the possibility of prescription misuse and become the leaders of tomorrow. Harnessing the power of a better tomorrow, Marta Michelle's energy and passion for the cause is unparalleled, says Sally Quinn, a friend, health enabler and former colleague whose company created partnerships with Be Gutsy.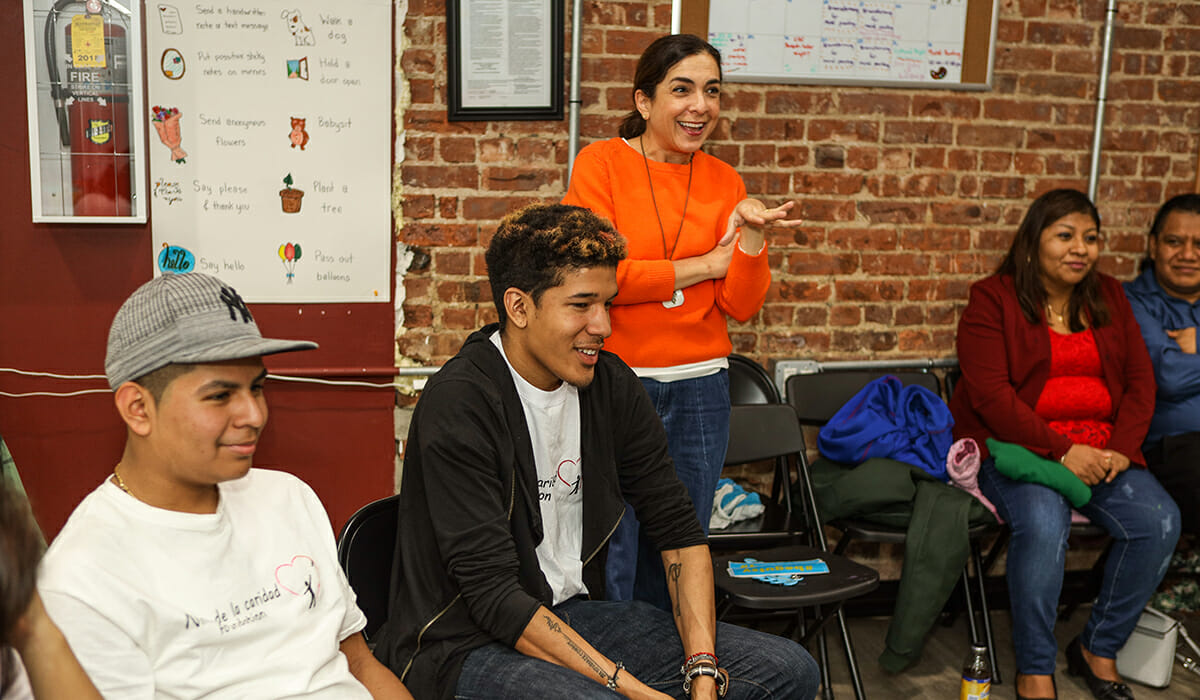 "When she walks into the room, she has this energy that's just incredible," says Sally. "No doubt, that energy is woven throughout her organization. Marta Michelle just knows exactly what to say when you need to hear it. Be Gutsy targets a very vulnerable and under resourced population, and she is absolutely changing the future for Latin and other youth in our community. She's addressing an issue that is one of the biggest killers in the U.S., and she's getting intervention to adolescents in a way that's accessible to youth."
Forced to offer Be Gutsy's programming virtually amid the COVID-19 pandemic, Marta Michelle facilitates online workshops and conferences, and is even offering an online Spanish theater production and socially-distant mural painting. The organization relies upon donations to support their educators, critical to the success of programming. Explaining the meaning behind Be Gutsy, Marta Michelle says her volunteerism helps young adults struggling with overwhelming adversity to cope by recognizing their value and being brave, a courageousness she herself continues to embrace each day as she volunteers in her brother's memory.
"We don't have to break the ceiling at all times. We can just build our own house. We don't have to be part of a huge effort. We don't have to wait for someone to call us to be part of a board, or an organization. Know that one person has the capability to create positive change."
Do you want to make a difference in your community like Marta Michelle Colon? Find local volunteer opportunities.
Share this post