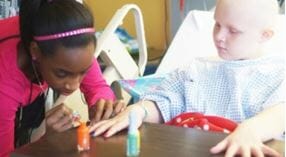 When Alanna Wall was just 10 she started Polished Girlz, a nonprofit devoted to the health and well-being of girls with special needs or frequent hospitalizations. During fun "nail parties" the girls get their nails painted in bright colors and glitter, as they learn about the importance of hand washing to limit the spread of germs.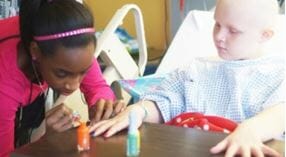 "I think my favorite part is getting to see the girls' faces when we get done, doing super-cool nail art, and how excited they are," Alanna told Ellen Degeneres recently on Degeneres' talk show. (Click here to watch the segment.)
Through Polished Girlz, Alanna has created a culture of service among young people in her community and greater respect for children with special diagnoses.
Alanna's clients include the Children's Medical Center, Down Syndrome Association and Muscular Dystrophy Association. The nonprofit is scheduled to serve two of the three largest Ronald McDonald Charity Houses in the country.
Alanna encourages children who believe they are too young to make a difference to get out in the community and serve the less fortunate, changing the lives of their neighbors and ultimately their own for the better.
Find out more about Alanna here.
Share this post