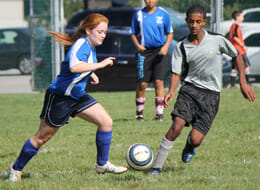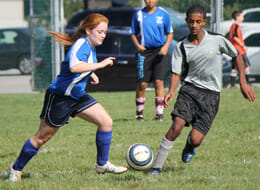 Seeing the need for more positive and healthy teen activities in the community, Amanda Otten of Louisville, Kentucky created Teen Recreational League, a new recreational sports league for teens. Otten became aware of complaints from youth that team sports stopped in eighth grade unless you are selected to play for a high school team. This is difficult for many teenagers because most high schools have such a large population and only a small percentage get to play on these sports teams. Otten is a talented student athlete and made her high school sports team. Nevertheless, she is determined and committed to creating opportunities in her community that allow any teen regardless of ability to play sports.
Over the past year, Otten worked tirelessly to come up with a proposal that included a variety of team sports, practice and game locations, rules and regulations, and marketing materials to engage families in surrounding communities. It took Otten more than a year to complete. She would meet with adult leaders who had access to outdoor fields and courts. These leaders were impressed with her initiative and proposal, but skeptical and hesitant to commit to her program. Throughout the year, she experienced several setbacks such as this, but did not give up.
Eventually, through perseverance, she started the league with only soccer although her proposal included several sports. However, Otten is tenacious and has a never give up attitude. She continues to strive to add more sports to her league. Additionally, Otten lives in a single-parent home and helps care for her younger brother who has cerebral palsy due to a stroke that paralyzed one side. Therefore, Otten decided to include special-needs and disadvantaged teens in the new league.
Thus far, Otten's Teen Recreational League is a huge success! For the first season, more than 80 teens participated in the soccer league and there had to start a waiting list because they ran out of field space. Families drive from several counties in Kentucky and Indiana to participate in Otten's league, and they are thrilled to find a safe environment for their teens to gather and play sports.
Share this post