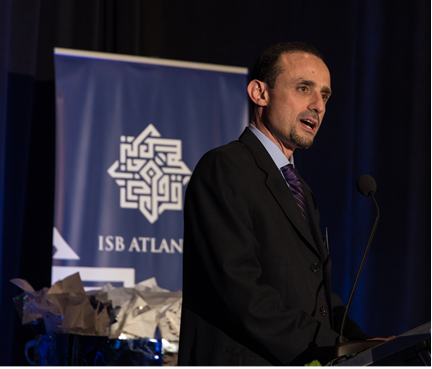 We cannot understand someone we don't know.
That simple truth galvanized Amin Tomeh into action.  As an American Muslim, born in Damascus, Syria and living in the U.S. since 1986, Tomeh saw a critical need for bridges between Muslims and their community.  In 2004, the now 45-year-old civil engineer joined the Islamic Speakers Bureau of Atlanta (ISB), first as a trained speaker, and then expanding his volunteer roll to include training others and serving on the non-profit's board.
"Eliminating stereotypes through education really appealed to me," he said.  "I liked that this wasn't a religious organization interested in proselytizing.  We are a group of certified speakers eager to go into the community to foster meaningful conversations, especially with young people." His intent, along with the organization's, is to become the Islamic source for faith and civic collaboration promoting (community/civility/religious) understanding and inclusion. He considers the ISB's work as a constructive response to the Islamophobia we see around us.  The idea behind the ISB is bringing a "real life Muslim" into the classrooms, churches, civic organization, etc. along with cultural artifacts like traditional dress and the Quran.  "We are open to all questions, nothing is out of bounds," he said.
In addition to the ISB's work with the wider community, the organization developed a series of workshops targeted towards Muslim youth and their parents to deal with bullying and other issues they might be facing in schools and universities.  These workshops are titled "Meaningful Conversations" and "Straight Talk".  As one of the group's chief facilitators, Tomeh recently gave a Straight Talk workshop to almost 100 middle and high school Muslim students. It was interesting to learn about what these students are facing day in and day out and how they are dealing with that.  The workshop empowers them with tools to use such as how to defuse bullying that can happen to young Muslim students.   "During one workshop I asked by a show of hands for any student who had been called a terrorist.  Ninety percent of the Muslim kids raised their hands. That is why our mission is so important."
There are an estimated 125,000 Muslims in Georgia.  "There are an estimated 1.6 billion Muslims from all over the world. We are American Muslims; we are Atlanta Muslims. Rather than learning about Islam and Muslims from a Google search, we are available to communicate and be involved in our local communities. We personalize the experience. No questions are off the table"
"Bridges go both ways," Tomeh said.  "Our goal is to always extend good will.  People can sometimes feel under attack. There is a natural tendency to circle the wagons or to becoming more reactive than contemplative.  In these programs we talk through scenarios in order to foster long-term sustainable bonds with people of other faith, and no faith, traditions."  The ISB is also very involved in our communities and such involvement includes participating in the Atlanta Food Bank Annual Hunger Walk where the ISB is an umbrella organization brining Atlanta area Muslims to the Walk.  In addition, the ISB has been involved in the Fayette County Summer Lunch Program for the past 8 years where the ISB along with other faith based organization prepares and delivers lunches to the under privileged children of Fayette County.
At a recent presentation at the University of West Georgia, Tomeh asked the audience to share one thing that they learned from the presentation. He always hears a common response that "it was surprising how closely linked, and how similar the Muslim faith is to Christianity and Judaism."
Tomeh concluded that "Once we focus on the values we share, the way we are related, stereotypes tend to lose their power."
Share this post