Asian-American Teens Democratize Services for Youth of Color and Promote Pan-Racial Solidarity
Meet Daily Point of Light Award honoree Frances Leung and Nicole Kim. Read their story and nominate an outstanding volunteer or family as a Daily Point of Light.
United in purpose to better the future for all minorities, Frances Leung and Nicole Kim are a volunteer powerhouse, democratizing services for the BIPOC (Black, Indigenous and people of color) community. As the two teenagers from New York City fight inequities minorities face and drive pan-racial solidarity, it is apropos that the classmates first met in U.S. history class at Hunter College High School.
"Oftentimes, minorities are pitted against one another," says 17-year-old Nicole. "We wanted to dismantle the rhetoric that exists so we can all have solidarity with one another."
Founding The Nonstandard Project in February 2020, Nicole and Frances are bringing Gen Z BIPOC youth together to make youth activism communal and accessible. Describing a personal desire to connect with other communities of color as an Asian-American, 18-year-old Frances says building bridges for other POC communities through service has been a healing experience.
"Personally, I didn't feel POC enough," says Frances. "There were a lot of males in my life who would say, 'you're Asian, you're not really a person of color.' That made me want to go back into the POC community to prove I live the POC experience, and now, am creating programs to unify the community across commonalities of the POC experience, even though there are racial and ethnic divides."
Spanning those divides and celebrating POC youth similarities, Frances, who is Chinese-American and Nicole, who is Korean-American, have connected with more than 100 youth of color across 50 schools in 9 countries worldwide. Both say they recognized the great need for pan-racial solidarity before the COVID-19 pandemic, but as their volunteer efforts launched at the outset of the outbreak in the U.S., cohesiveness in the face of increasing social isolation became even more dire, according to Frances.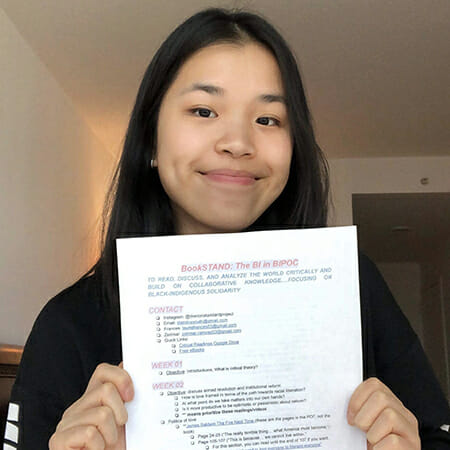 "This organization is adapting virtually to help bridge community even beyond the boundaries of NYC. Addressing issues like anti-blackness in Asian American communities through rhetoric doesn't really do anything in reality. We are creating relationships beyond racial and ethnic communities for youth of color to understand the importance of what community holds and also support one another through our wellness programs and Affinity Spaces."
Through programs for BIPOC youth like their "Listen to Us Talk" podcast which touches upon everything from race to politics to pop culture, their virtual Affinity Spaces, Nonstandard's version of an online open forum, even a biweekly critical theory book club, BookSTAND, Nicole and Frances are giving kids of all backgrounds, including those hit particularly hard during the pandemic like low-income youth, a consistent and desegregated space to advocate and be involved in activism concerning all topics about race. Emphasizing collaborative learning from different perspectives and experiences, their service is also backed up by financial support, donating school supplies for more than 100 students in NYC and raising over $1,000 for NYC mutual aid organizations in the last year. By motivating youth to engage in their communities, Nonstandard has become like a second home to many youth desperate for allies, says Nicole.
"After an Affinity Space call, one participant texted me and said (Affinity Space) was her calming or safe space. That really touched me because she came from a PWI (predominantly white institution), and she said her school wasn't providing the wellness services she needed. Hearing that made me hopeful people will go out and create their own Affinity Spaces and serve their own communities. Nonstandard serves BIPOC youth and also serves as a catalyst for other BIPOC youth so they can go out and change life for others."
When asked to describe their volunteerism, both Nicole and Frances say the word "impact" represents how they are serving day in and day out. According to Emily Jin, a classmate and Nonstandard volunteer who serves as Financial Director and also helps with outreach, the impact Frances and Nicole make is greater because of their compassionate service.
"The pandemic took away a lot of opportunities, especially for low-income New York City high school students, who already didn't have a ton of access," says Emily. "With everything shutting down, they did an amazing job creating space for BIPOC students to bond with other people in similar circumstances, relax, make friends, talk about political, social and economic issues. Space for discourse that was missing from the school community. (Their volunteerism) is really important in a city as diverse as ours. It always amazes me how (Nicole and Frances) consider perspectives from everywhere. They are always asking questions about how we can better serve groups of people that are left out from our work."
Working with organizations like Verizon Media's Built By Girls, Catcalls of NYC and Chinatown Youth Initiative, Nonstandard is helping youth of color to learn from one another and have the confidence to break down existing barriers. Through actions big and small, Nicole says she and Frances are changing lives through their volunteerism, and are in turn, inspiring others to give back to their own communities.
"I've seen the way in which volunteerism changes lives. As someone who has been involved with service for a really long time, I hear participants and community members talk about how (Nonstandard) makes their day. They're inspired to participate while embracing their own identities. It's that personal change that really fuels the work we do and why we spend so much time on it."
Volunteering together has strengthened their friendship, says Frances, who says the two teens have bonded over helping to improve the lives of others.
"We've become better friends through the work we do and bonding over shared experiences we didn't even know we shared. In order to identify what the community needs, you need to first think about what you would want."
Do you want to make a difference in your community like Frances Leung and Nicole Kim? Find local volunteer opportunities.
Share this post