Atlanta Doctor Perseveres Through Tragedies of War, Illness and Mass Shooting to Help Fellow Immigrants and Refugees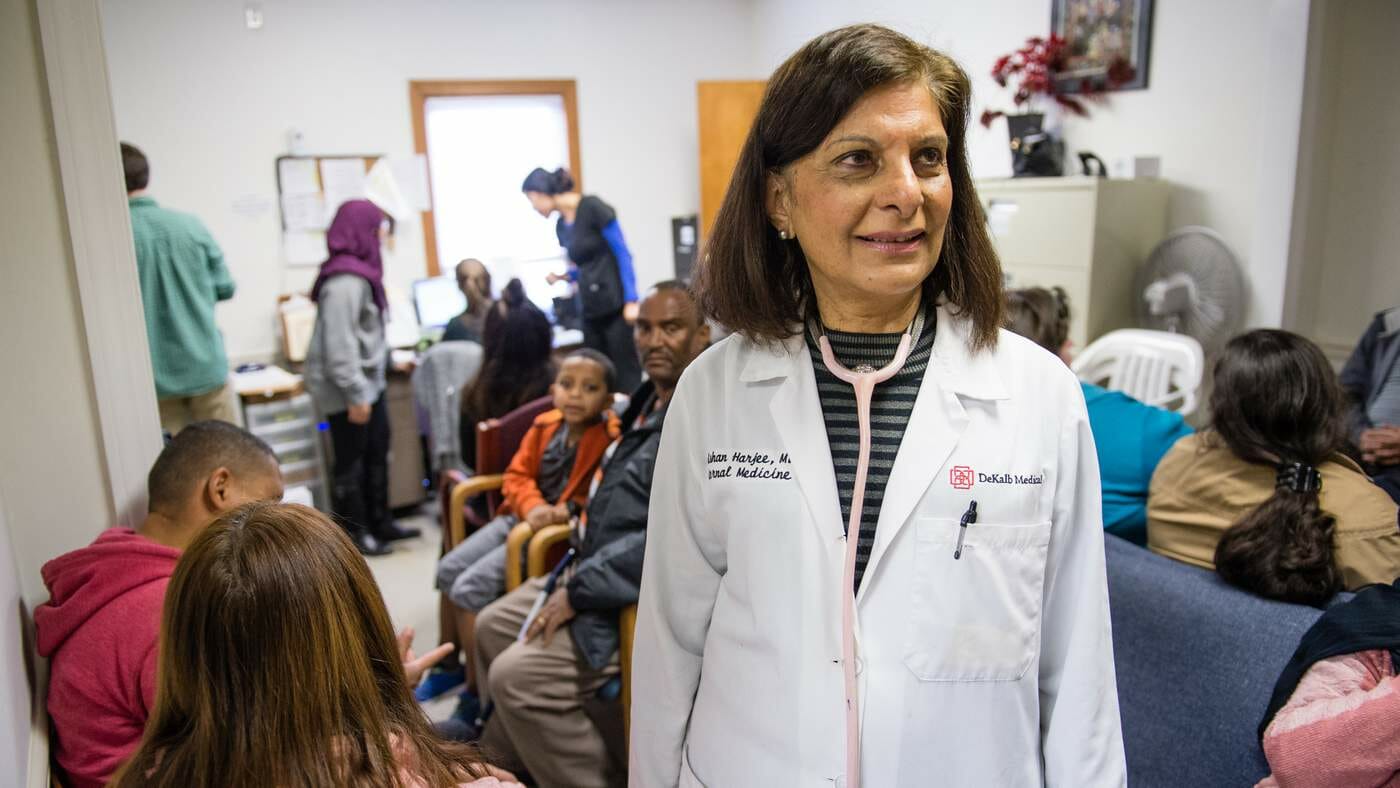 On the evening of July 29, 1999, Gulshan Harjee's world came crashing down. The police told her that her husband had been killed in a mass shooting that left eight other people dead. It was the day after their daughter's fourth birthday. "She was still looking for him everywhere, in the garage, in the house, thinking her dad was playing hide-and-seek," Gulshan said.
Her husband's death was barely the first tragic event in Gulshan's life. She had her own brush with death when she caught malaria as a teenager, which was worsened because she suffered from lupus. Soon after recovering, she was forced out of her country of Tanzania where her family had lived for three generations because of heightening tensions against Asian immigrants. Gulshan went to Pakistan and then Iran to continue her studies and pursue her dream of becoming a doctor, but her studies were cut short when the Islamic Revolution brought disorder and violence to the country.
With this much experience with death, heartbreak and pain (including a battle with breast cancer in 2008) one would expect a person to live the rest of their life for themselves by traveling the world, buying luxurious things, eating expensive meals. But Dr. Harjee Gulshan has dedicated her life to helping those that are in similar situations she was in by co-founding and running the Clarkston Community Health Center, a free clinic that offers medical services to refugees, immigrants and low-income residents. She not only provides medical care to her patients, but donates clothes, food, furniture, whatever it is they need to help them transition to a more comfortable life in the U.S. Dr. Harjee is today's Daily Point of Light Award honoree and we spoke with her to learn more about her passion for service.
Describe your volunteer role with the Clarkston Community Health Center.
In 2013, my good friend Dr. Raees and I got together and he said "How about we start a free clinic?" We were both very excited and focused on it, but the reason I got involved was one, because of my own background of where I grew up and I knew the scarcity of healthcare, but also because of my private practice. We spoke almost 15 languages and we saw a lot of immigrants and refugees. Refugees only get six months of Medicaid and once it runs out, they are able to only get insurance if they find full-time employment. As time went on, I was able to kind of take care of them as I could in my private practice, but the volume of patients got so large that I couldn't take care of them all myself so it made sense when Dr. Raees offered to start a free clinic with him.
We started in 2013 and it took us almost six months to become a 501c(3) and then we put a board together. We started looking for a space in Clarkston, which is a one-square-mile town near Atlanta and it is very immigrant, refugee friendly. In just that one-square-mile city, 60 languages are spoken. I speak six languages myself and do internal medicine primary care so everything fit as to why we wanted to start the clinic and what my purpose was. In February of 2015, we opened the doors and we are a 100% volunteer-operated clinic. We started with just primary care, but within a year and a half, we were able to add free dental, free mental health and prescriptions. We're about to add cardiology and pulmonary. For the last two years, we were the youngest organization to win grants for screening mammograms. It's been a journey and it's in no way easy to run this operation because of the current climate and how the country looks at refugees and immigrants.
The day of the 2016 election was the day that I made the decision to sell my private practice. The clinic was already open, but the day of the election, it became clear to me that this administration was not going to expand Medicaid and there were going to be repeals on Obamacare so I felt that the clinic was going to get busier. So the day of the election I made that decision and in six months, February of last year, we sold the practice.
As an immigrant yourself, how do you feel about the anti-immigrant, anti-refugee rhetoric that's been increasing in society?
Nobody wants to leave the comfort of their own culture and own birthplace unless they have to. Everybody likes where they were born, where they grew up, where their family grew up, but the reason people leave is because everybody has the desire to elevate their lives. Everybody has their dream. Everybody wants their children to get a good education. Everybody wants safety and security. Everybody wants healthcare. So people move and they face these risks of swimming across or going on a boat or walking for days without food or water just because they think that on the other side, they are going to have safety, security and a better life. It really saddens me. Look at me. I would have never left Tanzania if we didn't have the political turmoil and the ethnic cleansing that went on. But I was kicked out with a Tanzanian passport in my hand at age 17. I didn't know anything else. That was my country, where I was born so it was very traumatic. It's humanity to take in people and no matter what faith you follow, the first thing is service to people, the kindness you extend to people.
Is there a story of a particular patient that sticks out to you?
There are many stories. We see about 25 patients on Wednesdays and Fridays and we see 100 visits on Sundays. Every person that comes through that door has a story. People have escaped gunshots. They have escaped dehydration, diarrhea, disease, war, rape, all kinds of things. The stories are horrible. One woman carried a child on her back and two other kids in her arms, running from bombs. Can you imagine? It's terrible. They wouldn't leave their country if they didn't have to.
What inspires you to volunteer?
I do whatever I can so that people don't have to feel the pain that I did. But also in reaching out to people, I, myself, am healing. It makes me feel better. I'm able to reach out to people and give what I can because I want to make their suffering less and let them know that they're not alone. My faith teaches me that by going through these trials in life, you are getting closer to the Lord.
My faith tells me that we are here to serve humanity and that's what we are all about. There is nothing we take away after we die. We can sit here and make a trillion dollars, but if you don't do anything for the world, essentially, your coming to this earth was useless. When some people die, they're dressed up in a suit or dress or even their wedding gown. But when Muslims die, we are wrapped up in six feet of cotton cloth so we know that we don't take anything with us when we die. The Lord entrusts us with his gifts and we are trustees of what he gives us and he wants us to use it for his children and to better the world.
What's been the most rewarding part of your work?
No matter how hard it was for me to become a doctor, I would never trade the ability to heal, cure or allay somebody's pain. Being able to talk to them, to help their confidence and be their confidant, I wouldn't trade it for anything else. I can't tell you how rewarding it has been even though it was so painful to get to that point.
What have you learned through your experiences as a volunteer?
First, I think everybody has a skill. Everybody has a talent with which they can give back to society and it can be in any number of ways. From the day we are born, we keep taking away from the earth. We have to leave back something so that the generation that comes after us can continue our legacy and build upon it so that each generation, we are becoming stronger and better human beings.
Are there any future partnerships, programs, or events that you are excited about?
I hope that in three or four years, we can make the clinic completely sustainable so we're continuing to speak to academic institutions, neighborhood hospitals and foundations. We're developing alliances and speaking to more donors to see how we can create more naming opportunities. Awards like yours allow us to speak and talk about our work so that somebody can read about us and be moved by it. Suddenly you'll see people clicking on your website and you're getting 20 dollars, 25, 500 dollars. Hopefully one day someone will click and put six figures for us!
What do you want people to learn from your story?                         
I want people to learn perseverance and that if you have a dream, follow it. If you can achieve just 5% of your dreams, then you're a very fortunate person. But no matter what it is you achieve, you have to share it, give back to society. Don't forget that we are living in this world where there are other people with us.
Read more about Dr. Gulshan Harjee's story here.
Do you want to make a difference in your community like Dr. Harjee? Visit All For Good for local volunteer opportunities.
Post written by Alicia Lee.
Share this post
---