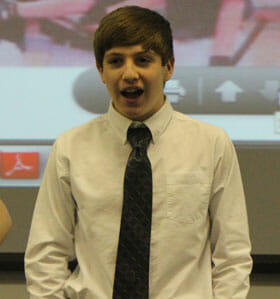 For Ben Otten of Louisville, Kentucky, there is no cause too small. Over the last seven years, Otten, 15, has completed nearly 2,000 hours of community service— in recent years managing about 500 hours a year. Otten accomplishes this despite what many would consider a hindrance; after suffering a stroke shortly after he was born, Otten was diagnosed with cerebral palsy, or CP, which resulted in the paralysis of the left side of his body.

"I started volunteering when I was young with my mom and my sister, it became our family passion," says Otten, who began serving his community at a young age. Since then, his passion has only grown.

Being raised by a single mother in a family that moved often and struggling with the challenges of CP, Otten learned early on that everything happens for a reason.Every experience, both positive and negative, has helped prepare him for the life he leads today and serves as a force behind his volunteer service.

Otten's volunteer service is expansive and varied. He works with his local Habitat for Humanity affiliate, helping with framing and foundation work as well as assisting with landscaping for new homes. He also lends a helping hand to the community's elderly by doing landscaping and yard work. At Wayside Christian Mission Homeless Shelter, he works with young children by serving as a role model and mentor for those that are going through tough times. Otten also works with special needs children and even finds time to volunteer at his local Salvation Army and United Way.

On Sundays, instead of taking a break, he uses his technical skills to help with the lighting during church services. Otten never lets his diagnosis stop him, even on the most painful and challenging days, "The most rewarding part is how much more I get out of serving others than I ever expected. I really don't see any challenges to it."

Because Otten feels so passionately about serving and volunteering, he presents and speaks at ebetns to share the importance of giving back with members of his community. Despite the physical challenges he faces, he has been able to improve, inspire and redefine so many people's lives,"I always meet new amazing people and I usually learn something new too."

Ben Otten's words combined with action inspire those who meet him, making him a true Point of Light in his community. He is a testament to the notion that everyone is capable of giving back to his or her community. Otten says, "If I can serve, so can you! Give it a try, you will get so much more out of it than you ever expected."

If you know someone like Ben overcoming challenges to serve their communities, nominate them today for the Daily Point of Light Award!
Share this post