California Teen Helps Raise Awareness and Funds to Counter World Water Crisis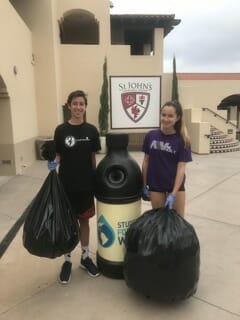 17-year-old Grace Dennis is entering her senior year of high school at Santa Margarita Catholic High School in Orange County, California and has been passionate about helping the environment and enriching her community since she was very young. Grace began her volunteer service work when she was in the fifth grade after being introduced to Students for Safe Water, an organization that raises awareness and funds to counter the world water crisis.
Grace and her brother established a recycling program at St. John's Episcopal School. They placed collection bins around the campus and helped educate others about the water crisis, organized a fundraising campaign to help build clean water wells and hygiene stations in Latin America and Africa.
In the past eight years Grace's role and involvement with Students for Safe Water has grown and allowed her to create a bigger impact in her community and for those in need of clean water in many areas of the world. Grace is a member of Lion's Heart –Teen Volunteers and Leaders, a national nonprofit which connects 6th-12th grade students with local service opportunities, and is today's Daily Point of Light Award honoree. Points of light spoke with Grace about her work with Students for Safe Water and her commitment to service.
What inspires you to volunteer?
For as long as I can remember, the message in my home has always been to do all the good that you can, when you can, for all you can. My desire to contribute to a greater good, to be a force for good in the world is why I am drawn to service. 
Describe your volunteer role.
Combatting the world water crisis and protecting the world's natural resources are passions of mine and where I devote the vast majority of my volunteer service. I have been a member of the youth advisory board for the non-profit Students for Safe Water for the past seven years. I work to educate and inspire young people, raise awareness about the world water crisis, and raise crucial funds that allows Students for Safe Water to build clean water well, latrines, hygiene stations, and support reforestation efforts in Latin America and Africa. Additionally, I am the founder and manager of the recycling program at St. John's Episcopal School. Over the past eight years, I have raised over $5000 with 100% of the proceeds directly donated to Students for Safe Water, and prevented over 2,500 pounds of waste from filling our landfills and polluting our oceans. Finally, I am the founder and president of the Students for Safe Water club at Santa Margarita Catholic High School. With membership of nearly 100 students, this club of motivated high school students organizes education and fund-drives throughout the school year.
What has been the most rewarding part of your work?
The most rewarding part of my work is seeing true and lasting change. Knowing that my actions, my efforts can impact someone else's life and allow them to live healthier and happier is almost indescribable. 
What have you learned through your experiences as a volunteer?
As a young volunteer, I learned how small things, small efforts can lead to big change. You don't have to invent something dramatic, have great experience or vast amounts of money to affect change. When one person decides to give their time and their heart, amazing things will happen. 
Are there any future partnerships, programs, or events that you are excited about?
I am very excited about partnerships with our NGO's this year to continue progress on larger clean water project builds in Rwanda and Nicaragua. As a senior in high school, I'm looking forward to leading my fellow SFSW Club members in a Crush-the-Crisis campus recycling and fund drive while also making decisions about college where I will pursue opportunities to expand my mission and discover even greater service experiences! 
Why do you think it's important for others to give back?
Growing up in Orange County, California, I have been blessed with so many privileges that most never receive. It is important to use the opportunities you are given to not only help yourself, but help others around you. I truly believe that we are all in this life and in this world together. We must see and feel other people's struggles as our own, we share the same planet, we must care for it as we hope it will care for us. I simply think its important to care.
What do you want people to learn from your story?
 I hope anyone reading my story knows that they are powerful and that they are someone that can do good. I was young when I started emptying and sorting recycling bins. I never would have thought trash could make such a difference. Look around, there is always something bigger, just go for it! 
Do you want to make a difference in your community like Grace Dennis? Visit All for Good for local volunteer opportunities!
Share this post