Cancer Warrior Brings Hope and Empowerment to Others With Medical Hair Loss
Meet Daily Point of Light Award honoree Leslie Rager. Read her story and nominate an outstanding volunteer or family as a Daily Point of Light. 
Leslie Rager is a lot of things: a mystery writer, a project manager and a newlywed. After a bout with breast cancer, she also became a survivor. Equipped with personal experience with the disease, she understands the mental and emotional challenge that accompany it, and she wants to help others see themselves as more than someone who is sick.
Two decades ago, Leslie was diagnosed with breast cancer. A year later, Leslie's sister-in-law, Carolyn, was struck with it and several years after that, Laura, Leslie's younger sister had the same experience. During this last battle with the disease, when Leslie's brother wanted to help, Leslie immediately suggested that Laura would need a wig. Her daughter was around eight years old at the time, and Leslie knew seeing her mom without hair would only add to her fear.
When Laura no longer needed it, Carolyn ran with the idea and started a wig exchange, passing the hairpiece to another relative undergoing chemotherapy. And so the EBeauty Community began. From one family's suffering has come an organization full of support and compassion, 11 years strong.
Leslie works full-time as a project manager and technical writer for a software company and volunteers 20+ hours a week at EBeauty. Even in her limited spare time, she embraces writing fiction as a chance to take people away from their day-to-day life for a while. Sometimes, helping someone see a different reality is the best kind of medicine.
What inspires you to volunteer?
I've been there. I know what it's like to look at yourself and see a sick person. Having hair allows you to see yourself as healthy. That's the bottom line. It's not about not feeling pretty. I want to look at myself and see that I'm going to get back to who I am on the other side of this. 
Tell me about your volunteerism with the EBeauty Community.
We provide free wigs to women with medical hair loss — whether it's because they're undergoing chemotherapy or they have alopecia. Not all insurance covers the cost of a wig.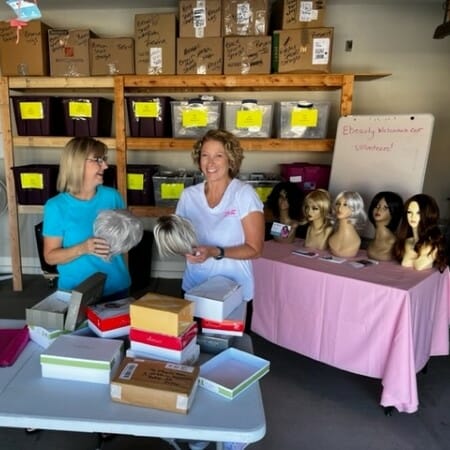 Over the years, I would help with events, but in 2022, after I got married and moved to a senior community, I've become more heavily involved. The organization had always been based in Washington, D.C., but we recently started the first EBeauty House in my husband and my second house down the street. Volunteers come to the house to sort and ship wigs.  
I wear a lot of hats. I'm a published author, so initially, I wanted to just be involved with social media, the grant writing, newsletters and doing that kind of thing, but I also help ship thousands of wigs every month. 
Where do you get the wigs?
A lot of women who no longer need their wigs donate them. We ship them to Paul Mitchell schools to do cleaning and styling, so they're brand-new again and ready for the next person. Every day, we get wigs. Sometimes it's five, sometimes one.  
Oftentimes it's not the women, because they didn't make it. We get memorial cards and letters from husbands donating wigs their wives didn't get to wear. We have two boards in the house with notes that we get from women passing wigs on to the next woman with the hope that they will bring her some peace or joy and notes from those who donated for the women who didn't make it.  
Additionally, we have a couple of companies that have donated hundreds of brand-new wigs. The American Cancer Society has sent us thousands from their overstock that we distribute. We ship them to individuals who order on our website, but we also send them in batches to hospitals and cancer centers so that a woman who's going in to get her chemotherapy can try on 10 wigs and pick the ones she wants. 
What's been the most rewarding part of your work? 
The most rewarding—and most difficult—thing is having women who are currently undergoing cancer treatment come to the EBeauty House and to try on wigs. It's very hard, because I've been there, and some of them are a much higher stage. 
If they have metastatic breast cancer or if they're stage four, we're just trying to make whatever time they have as pleasant as it can be. They kind of know that when they come, so that's very hard, because we need to be positive.  
A couple of weeks ago, a young woman came with her mom. She would only try on wigs in the bathroom, because her mom has never seen her without her hair. Her mom was reading the bulletin board of all the letters that we've gotten. 
There were three other women volunteering that day, two of whom had had cancer. Her daughter felt comfortable enough to talk about what she's going through. She hadn't been telling her mom this stuff, because she didn't want to upset her. I did the same thing. We sent her home with five wigs. I like to think that when she gets up and starts her day and she picks up a fun wig, she's happy. 
What have you learned through your experiences as a volunteer? 
I've learned to listen more than I did before, because sometimes it's just good to be quiet and let them tell you their story. You absolutely receive more volunteering than you could ever give. I don't think you can do it without feeling good. I can't save the world, but if I can put wigs on 100 women's heads, I've done a good job. 
What are some of the best ways to show your support to someone going through cancer treatments?
First of all, don't give advice. Listen. Unless they've been there, your family doesn't really know what it's like. Also, we oftentimes will say, let me know what you need, but really, you just need to do it. Show up at the house and say, "Here's dinner. And I'm going to do a load of laundry while I'm here." Some communities will say, "We're going to have a meal train for Mary," and everybody just brings her dinner. Mary doesn't have to ask. It just happens. 
Why do you think it's important for others to get involved with causes they care about?  
Disease—cancer and  alopecia—they'll touch anybody. If you haven't had anyone in your life touched by either of those, I'm shocked. There's so much need out there. There are so many who aren't as fortunate as you. 
What do you want people to learn from your story?
No matter how old you are, or where you are in your life, you always have a little something to give to someone else. I work a full-time job. I try to write. I give EBC up to 20 hours a week. I'm a newlywed. But you can make time to give back. It's really important and fulfilling. 
Do you want to make a difference in your community like Leslie? Find local volunteer opportunities. 
Share this post