Candid Camera: Retiree Uses Photography to Capture the Hearts and Smiles of Day Shelter Guests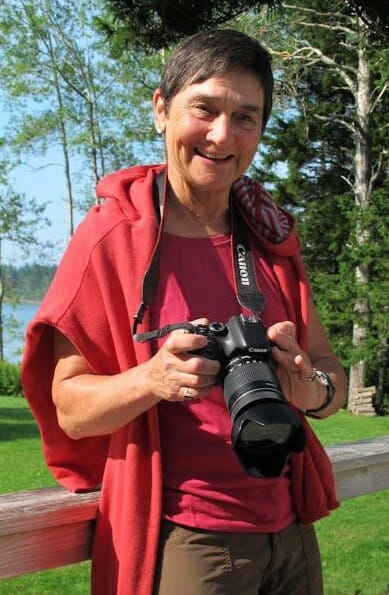 Nancy Schieffelin is a woman of many talents, and boundless compassion. The retired clinical social worker has helped serve meals at Women's Lunch Place in Boston since 1989. Every Tuesday, she can be found in the dining room, teaching volunteers how to serve lunch restaurant-style to women experiencing homelessness and poverty.
"[The shelter] gives them a sense of being served, which in their daily life – that's not what they experience," Nancy said.
There are flowers at every table to greet the women who enter the day shelter's doors. The breakfast buffet is open from Monday through Saturday from 7 a.m. to 10 a.m., followed by a hearty, healthy lunch. Meals are served on china plates—and with a smile—as volunteers wind their way through the dining room personally delivering food to guests.
"[Nancy] has amazing skills," said Lisa Brown, volunteer manager for Women's Lunch Place, "and an ability to be with the ladies and speak with them in a way that most of my volunteers don't really have access to – not having been a social worker and not having been here for 27 years."
A year ago, Nancy took on a new role – resident photographer.
"One of our guests had pulled a picture of herself out of her wallet, and it was this little teeny old snapshot from the 80s," Lisa said. "Nancy thought about how it would be so wonderful for them to have a nice photo of themselves."
As an accomplished artist, whose paintings have been shown in galleries dating back to the early 1990s, Nancy has a talent for revealing the beauty in ordinary things – and a knack for photography. The 72-year-old quickly focused her practiced eye on guests of the Women's Lunch Place.
So far, Nancy has taken more than 50 portraits of the women who have found refuge in the daytime community. She prints out a 4×6 inch picture for her subjects to take with them after sitting for the photo in a corner of the busy dining room. Some women have mailed their pictures to family members they haven't seen in years.
"It's a small gesture in the scheme of things, but it gives some sense of satisfaction for them and maybe a boost in how they feel about themselves." Nancy said.
Nancy hopes to ultimately create a photo portrait book featuring the guests of Women's Lunch Place. "Another volunteer and I … want to make a book of these photographs along with quotes and stories," Nancy said.
To have a moment to be reflected on by someone—and to be truly seen—is extremely powerful, Lisa shared. "Our ladies are often invisible—not in our shelter—but to the outside world," she said. "People don't look at them. People don't pay attention to them, or speak to them."
"They are giving me the privilege of taking their photo," Nancy said. "When you volunteer—when you give—you are getting a lot [back]. It's a two-way street."
Not one to rest on her laurels, when she's not volunteering at Women's Lunch Place, Nancy coaches an ice hockey team for inner-city youth as part of The Boston Urban Hockey Initiative's SCORE Boston program. She also works with YouthBuild on the "Friends of YouthBuild" committee which is tasked with fundraising from individuals. Youth Build teaches low-income young people leadership and construction skills through building affordable housing, as well as helping those without high school diplomas obtain a GED.
Nancy traces her affinity for service work back to the summer of 1964. As a student at Brown University, she volunteered to be a part of the Mississippi Summer Project, which is now known as Freedom Summer. During that time period, three civil rights activists were murdered near Philadelphia, Mississippi, and many volunteers were threatened, beaten and arrested.
"I volunteered to go to Mississippi in 1964 at a very dangerous time," she recalled, "to help people register to vote and to teach in Freedom Schools which we created to help teach African-American's about their rights."
It was that extraordinary experience that laid the groundwork for Nancy's long-standing commitment to service. She said, "It came to me [that summer], what I've sort of committed my life to ever since."
Are you interested in lending a helping hand to homeless and low-income women in your community like Nancy? Visit All for Good to find local opportunities.
Share this post