Chasing away the chill by giving back
Meet Daily Point of Light Award honoree James Cullen. Read his story and nominate an outstanding volunteer or family as a Daily Point of Light.
On a cold day in Kewaunee, Wisconsin temperature can dip into the single digits. For James Cullen, who turns 18 next month, the idea that some kids in his community don't have cold weather gear was chilling. So he decided to make a difference and founded Weather Warm-Ups three years ago, a charitable clothing drive that has donated jackets, sweaters, hats, gloves to more than 400 local kids. Working with the county's yearly Back-To-School Program, Violence Intervention Project for children and women in need and the local Lakeshore Community Pantry's Thrift Shop, James has literally warmed lots of hearts – and bodies too.
Points of Light spoke with James about his commitment to service.
Describe your volunteer role?
I started Weather Warm-Ups three years ago as a freshman when I saw how many people need warm clothing during the winter months. With support and guidance from my parents, my parish and the Kewaunee County Back-to-School program, I have organized, promoted, gathered and distributed cold weather gear to more than 400 young people so far. I distribute flyers, spread the message via media and social media, set up collection sites throughout the community, collect and distribute clothing as part of our county's Back-to-School Program.
Why is it important to you to support your community in this way?
It's important for me to give back because there is a need. During fall and winter our weather is incredibly cold, and not many students come to school with warm clothing. It's rewarding to me to see young people find a jacket or a sweatshirt that they love and are able to take home to wear when the temperature drops.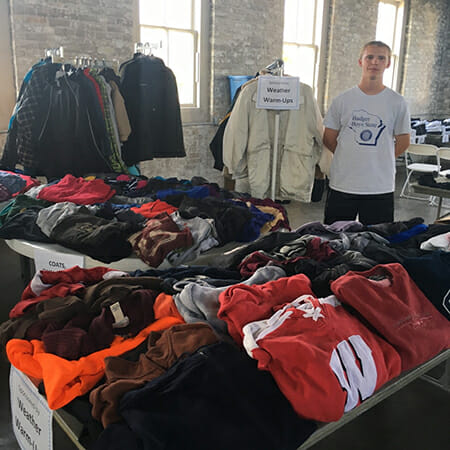 What's the most challenging aspect of your volunteer service?
Getting the clothing donated! I find it challenging to get the students at my high school to donate clothing. I do my best to promote my charitable the value of giving to those less fortunate.
Why do you think it's important for others to give back?
Volunteering is a great way to strengthen one's community as it builds teamwork skills and inspires others to give back too. It is also important for the people in need to know that they matter, that others care about them.
What's been the most rewarding part of your work?
The best is seeing the looks on kids' faces when they find a piece of clothing that they really enjoy. It means so much to me to be able to give those kids jackets and sweatshirts and the excitement they show when they receive them is the only reward I need. I especially remember one child who excitedly ran to his mom to show her his new winter jacket.
What have you learned through your experiences as a volunteer?
Through communication with programs such as the Kewaunee County Back-to-School Program, the Violence Intervention Project, and the Lakeshore Community Pantry's Thrift Shop, which all received items collected through my charity, I have developed great communication skills. Through the organization of my clothing drive I have learned how to be a better leader.
Are there any future partnerships, programs, or events that you are excited about?
I will be distributing all of the clothing I've collected so far at the Kewaunee County Back-to-School program event in August. My younger brother plans to take over the annual Weather Warm-Ups collection drive when I go the college. Next year, my goal is to continue a similar collection drive to provide warm weather items for the citizens of my college community.
What do you want people to learn from your story?
I would like people to know that anyone can make a difference if they put forth the time and effort to do so. You don't need a lot of people to make a change, just yourself. Find a cause that is needed in your community and come up with a way to solve it. Everywhere you go there are challenges facing people and it is up to us, as individuals, to go out and make a difference.
Do you want to make a difference in your community like James? Visit All for Good for local volunteer opportunities.
Share this post