Dallas Father Creates a Sense of Belonging and Empowerment for Youth Through Rowing
Meet Daily Point of Light Award honoree David Slear. Read his story and nominate an outstanding volunteer or family as a Daily Point of Light. 
When David Slear's son started rowing after moving to Dallas, the team sport changed both of their lives. David saw his son and many other high school and middle school-aged students truly flourish as they became a part of a team. Eventually David got involved with Dallas United Crew (DUC) himself and helps empower youth in the city through rowing and dragon-boating.  
For seven years, David has transitioned in and out of various leadership roles where he expanded outreach to underserved youth, nearly doubled DUC's financial aid to rowers, built the club's boathouse, added a van for after-school transportation, reached an agreement with Dallas Parks Department and more.  
What inspires you to volunteer?
With the Dallas United Crew, what really inspired me was the impact I saw it having on our youth athletes. My son was a perfect example of this. He was a kid when we moved to Texas for work and he was in eighth grade, I think. He was a smart kid, but had never had much success with any sort of athletic team he joined. When we moved to a new city, we told him that he needed to get involved in something; he couldn't  just sit at home and go to school. So, kicking and screaming, we made him join this rowing club. He just gelled with it right away and it turns out that he was actually pretty good at it, too. Rowing is really a sport where the more you work at it, the better you're going to be. You get out of it what you put into it, and he loved it.  
Describe your volunteer role with
Dallas United Crew. 
I just rolled off as president of the Dallas United Crew after three years and my tenure on the board actually just ran out, so now I'm a member of the finance committee. I was also vice president as well.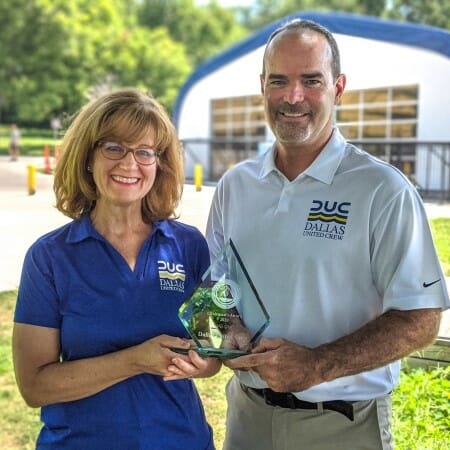 Rowing is an expensive sport, and it has a history of being kind of an elite, "Northeast prep school" type of sport. The equipment is expensive; you can't just get a soccer ball and hop on a field. These racing sculls that the kids race in cost about $50,000. It's like giving these kids a car to drive around. So, something that Dallas United Crew has done is really work hard at expanding the program and finding ways to allow more and more kids who maybe can't afford the club dues and equipment to row. We also work at breaking down that barrier of going on the water on a boat, especially for some groups of kids who didn't grow up swimming. Rowing isn't a sport that people hear about a lot in Texas. It's a football state. Everybody knows football down here. So, we've done a lot of work with outreach, especially with some of the less resourced schools and kids.  
We do this because not only does it transform their confidence and sense of self, but rowing is hands down one of the best ways to go to college. There's no other youth sport that has the opportunities to join a team as rowing. The women's rowing team at the University of Texas is the second largest team after the football team on campus. There are 169 women's rowing programs in the country, but there's just not that many youth rowers, so your opportunities are really, really large to be a part of them if you start rowing.  
What's been the most rewarding part of your work? 
I get to see these students gel and get to be part of an organization and part of a team. Then comes all the leadership, camaraderie and sportsmanship. I saw it happen to my son and to so many others. In this sport, there are no superstars, there's no one who scores the winning point. The whole crew in the boat, they all win or lose together. You crossed the line together. They call it the ultimate team sport for that.  I see it happen and then I see them kind of transcend. All of a sudden, you have a kid who has confidence and who is getting physical fitness. They're part of a group of people who would do anything for them. All the young people are experiencing this. That's something that I can certainly be supportive of, to try to help other people have that opportunity to do.  
What have you learned through your experiences leading this organization? 
Honestly just the impact that rowing has on these high school kids, even middle school kids, but it's really the high school kids who start to experience it. Rowing helps them, but it also carries them forward into life. It teaches you how to function as a group. It's just such a good skill set for kids to have when they get to college and start entering the workforce. 
Are there any future partnerships, programs, or events that you are excited about?
The rowers just finished their summer training and their summer regatta. We also have an exciting grant that was just awarded to us that we're planning to announce either this month or early next month. Then we'll kick off the fall season and we have two brand new coaches that joined. There's a lot going on.  
Why is it important for others to get involved in causes they care about? 
It's important because, when you've been through some life experiences, you have areas that you can contribute to and make an impact on for others. There's so much besides work that can be super impactful for people. Getting involved helps the community and it changes lives. Give your time and allow others to experience things in life that are good. This rowing club can be an example: it's not all sunshine and butterflies – we've had contentious moments and issues – but something like this club can continue because people believe in what it's doing and the mission it's spreading.  
What do you want people to learn from your story?
You're going to get more out of giving your time than what you're going to put in. It will be a lot of work, but it will be fun. It won't always be fun, but at the end of it, you'll get more out of it than you put into it and you'll be a better person because of it. 
Do you want to make a difference in your community like David? Find local volunteer opportunities. 
Share this post