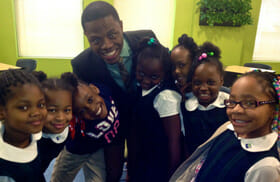 When he graduated from high school in 2009, Chicago's Derrius Quarles set off for Morehouse College in Atlanta after winning more than $1.1 million in scholarships and grants. In national media, he was deemed the "million-dollar scholar."Not satisfied with his own success, Quarles, in his junior year of college, founded a company, wrote a book, and launched a website—all aimed at helping current high school students find and win college scholarships.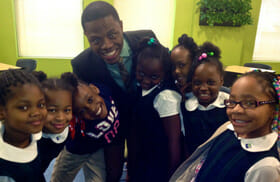 In just one year, his company, Million Dollar Scholar, has assisted more than 10,000 high school students online and helped students receive more than $950,000 in scholarships and grants.
Quarles is an unlikely subject of such a story. When he was four years' old, his father was murdered. Taken from his mother by the state of Illinois, Quarles spent 11 years in south Chicago's foster care system, and was told throughout childhood that he would amount to nothing. Quarles says he had a life-changing experience as a high school freshman when a biology teacher told him he had great potential that he was wasting and who encouraged him to work harder to get ahead.
"That's when I decided to turn things around," says Quarles. "I boosted my low grade point average by taking advanced-placement courses, and started researching college scholarships. It wasn't easy. The students with the highest GPAs got direct institutional aid. Others had to look for outside help. There are giant books with names like 'Go to College for Free' that tell you little, or that are outdated, and there are profit-making websites that are just fake. Eventually, with guidance from advisors, I was able to find the genuine scholarship opportunities out there, and get tips on how to win them."
In his final two years of high school, Quarles researched, applied for, and won scholarships and grants from Coca-Cola, Dell, Gates Millennium, Horatio Alger, Nordstrom, and other benefactors. The totals amounted to multiple "full-ride" scholarships. In 2013, Quarles will graduate cum laude from Morehouse with a degree in sociology—and debt-free.
"Given my background, my goal when I got to college was to go into a business with a strong community mission," says Quarles, who speaks at schools to inspire students. "Million Dollar Scholar—one component of which is my book 'Winning the Scholarship Race'— is my first venture. Who knows what the future holds. Right now, I'm just deeply moved and excited about what the company has done in its first year—when we were mostly in a learning process. Now we have measurable results, and I think the next two years will be amazing as we refine and build our online platform for helping students.
"I know for a fact I wouldn't have been able to go to college without many people helping me—pouring into my life's cup. They were my inspiration to help my own community, and then the larger community—people from all backgrounds—to gain access to the indispensable benefits of a college education and to leave school without the burden of debt."
Share this post