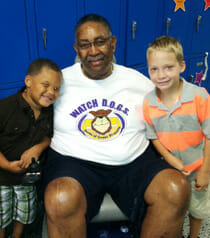 As a WATCH D.O.G.S. (Dads of Great Students) volunteer, Drew Vanderford helps youth achieve success at Clark Elementary School in Paducah, Kentucky.
Clark Elementary houses a KIDS Company I Family Resource Center, an initiative of the Kentucky Family Resource and Youth Service Centers established to enhance student success in schools. In an effort to increase male role models, the resource center implemented the National Center for Fathering's WATCH D.O.G.S program at Clark Elementary.
Vanderford started volunteering with the school's WATCH D.O.G.S. program last year for two days each week although volunteers are only required to serve one day a week. This year, Vanderford happily added another day to his volunteer workload thereby increasing his service to three days a week because so many teachers were asking for his assistance.
Through WATCH D.O.G.S, Vanderford works mainly with kindergartners on academic skills to increase their reading comprehension and become better students. He supports teachers' efforts and is willing to work one-on-one with any child who needs extra attention.
KIDS Company staff regards Vanderford as a selfless, dependable and dedicated volunteer who excels at working with all children regardless of academic level or age. While volunteering at Clark Elementary, Vanderford has had to undergo major surgeries. However, he has not let health issues impede is involvement at the school and continues to work with students from his wheelchair.
Share this post