Durham Triple Play Leagues Inc.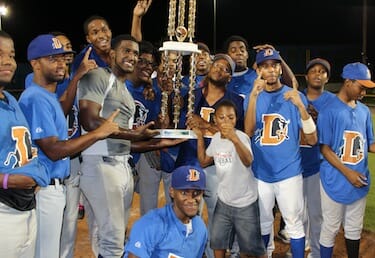 When Pat James found out her 14-year-old son, Lathan, wasn't going to be able to play in a baseball league in the summer of 2009, she wouldn't accept it.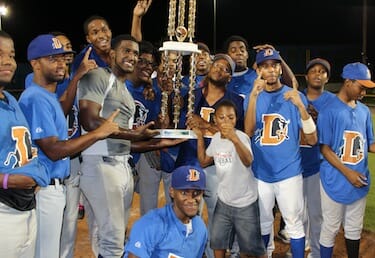 The Durham Bulls celebrate a championship win.
That year, because of budget cuts, the Durham, N.C., parks and recreation department had cut its summer baseball program for teenage boys. So James went to work to keep teen baseball alive in Durham. A single mom and longtime employee of Duke University's Community Services Center, James approached local coaches, volunteers and businesses.
"Our first year in 2009 was difficult," says James. "But I was able to get the old baseball uniforms for the kids, and the use of one field, from the parks and recreation department. Then I began approaching local businesses and was able to raise enough money for an end-of-season banquet and trophy. Thanks to the city, about 10 businesses and to the coaches and other volunteers, we were able to keep a baseball league of five teams going for the summer."
In 2010, fortunes improved for the fledgling league. Minor League Baseball was in town to restore and reopen the historic Durham Athletic Park, former home of the Minor League Durham Bulls, which was featured in the 1988 hit film "Bull Durham."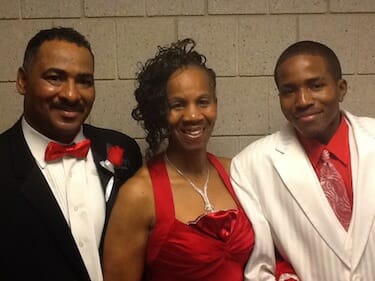 Pat James with her husband, Robert James, and son, Nathan Nobels
James appealed to the CEO of Minor League Baseball and Minor League Baseball Charities for support.
"He shared our concern that the percentage of African-Americans in professional baseball is dropping," says James. "He agreed that if I would run the program, and we ensured our kids were staying in school, and that we expanded to eight teams, Minor League Baseball Charities would grant us use of the historic baseball park, pay for our uniforms and umpire fees, and provide us $1,000 for a banquet. It was wonderful news."
Minor League Baseball Charities assigned the league the name "Long Ball." James became league director and successfully expanded it to eight teams. Since 2010, the Durham Triple Play Leagues' Long Ball Program – which was a pilot for Minor League Baseball – has enabled 120 teenage boys to participate in competitive baseball each summer. (Watch a video about the program here.)
"We wanted to give opportunities to kids who didn't make their school team or who just needed something positive to do with their time," says James. "Ninety percent of our kids come from the inner city, about 95 percent are African-American and 95 percent come from single-parent households. Sometimes, the coach is the only significant male figure in a player's life."
There are strict rules to participate. Players must stay in school and follow a dress code. No profanity or taunting of umpires, coaches or players is allowed.
James works with 24 coaches, 10 staff and about 50 other volunteers. Summer 2014 will be the sixth season of Durham Long Ball, and this year Major League Baseball will add its support to the league through its RBI program, which stands for Reviving Baseball in Inner Cities.
James says she loves volunteering for Long Ball and that she has witnessed positive results in the community from the start. Lathan, now 20, volunteers as a coach.
"My son is one of about 50 percent of Long Ball participants who, once they've reached the age limit of 18, come back as coaches and volunteers," says James. "We try to teach the kids accountability and respect as well as baseball skills. Sometimes parents half-joke to me that their kids will listen to me before they'll listen to them. It makes me feel great."
Share this post