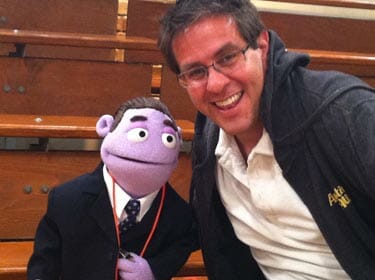 You might not know Eric Friedman by name, but if you have kids, you most likely know his work. As a successful television writer for the past 18 years, he has written for roughly 25 shows, including the Disney XD show "Crash & Bernstein" – which he created – Nickelodeon's "Drake & Josh" and Disney Channel's "Austin & Ally."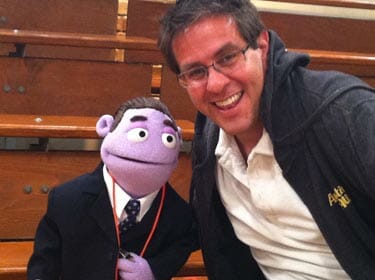 Eric Friedman hangs out with Crash, the puppet co-star of Friedman's Disney XD show, "Crash & Bernstein."
When he's not working on scripts, Friedman is helping the very school kids who love his shows to learn the creative writing process, develop their own scripts and eventually see their creations performed by the professional TV actors they idolize.
Shortly after moving to Los Angeles in 2001, Friedman heard about the Young Storytellers Foundation, which works to develop literacy through storytelling at Los Angeles public schools in need of arts education. Through one-on-one instruction, the foundation aims "to inspire children to discover the power of their own voice." Each year the organization, which was launched in 1997, works in classrooms and camps with about 1,000 elementary, middle and high school students.
"I grew up without people to encourage me to write," says Friedman. "I was also a child psychology major in college and like working with kids, so when I heard about Young Storytellers, I liked the idea and started volunteering one hour a week with the foundation."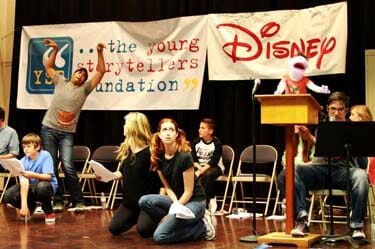 The cast of "Crash & Bernstein" perform students' stories for an audience of third, fourth and fifth graders at Walt Disney Elementary School in Burbank, Calif.
Friedman has since become one of the most active Young Storytellers volunteers. Over 13 years, he has mentored 19 students individually in 10-week sessions.
"I'm the lucky one," says Friedman. "It's so exciting to watch these kids work their brains. They don't edit themselves the way adults do. They just let their imaginations run free, and the range of topics they cover is astounding. It inspires me. Our motto is 'Every child has a story worth telling,' and it's true: I've never heard the same story twice."
The culmination of each 10-week writing program is a public performance called The Big Show, in which the kids experience the thrill of seeing their own scripts performed publicly by professional actors recruited by Friedman and other foundation supporters. For one Big Show, Friedman recruited the entire cast of "Crash & Bernstein" to perform for the student writers, and Disney hosted the special event in Burbank, Calif.
As Friedman's writing career has blossomed, he has expanded his work with Young Storytellers by producing three fundraising events for adult audiences called After Dark, for which he has recruited top Los Angeles comedians such as the Sklar Brothers and Casey Wilson to read works written by Young Storytellers alumni. Friedman also makes personal financial donations to the foundation each year, and in 2013 he joined the Young Storytellers board of directors.
Friedman says his volunteer work is its own reward, mostly because he loves watching his students mature creatively and come out of their shells.
"If even a few of my students feel inspired to keep writing, that's a reward in itself," says Friedman. "It's the best gift you can get."
Share this post