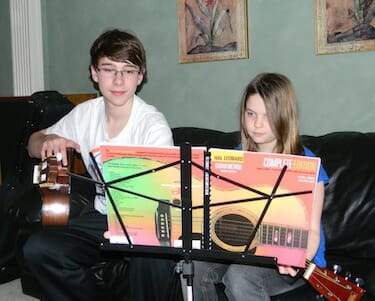 When Ethan Cruikshank was 10, he learned that his school district in Hanover County, Va., was eliminating its strings program from the music curriculum because of budget cuts. He had studied viola through that program, and was concerned about how its closure would affect the community.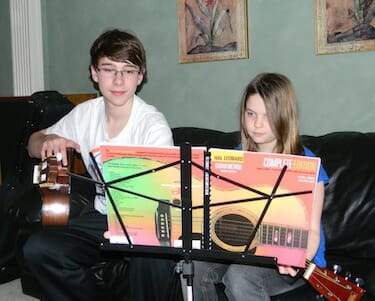 Ethan Cruikshank teaches one of his guitar students.
That fall, in 2009, Ethan took action by founding Music To My Ears, a group that recruits accomplished musicians from middle and high schools to volunteer to teach weekly music lessons to elementary school students. Ethan began by bringing on his older brother and six friends. Since then, he has recruited 24 teachers; 24 parents of those young teachers have volunteered to help, too. Music To My Ears volunteers have given more than 1,500 hours of service to 97 students.
"In some parts of our country, as many as 50 percent fewer children have access to music programs than they did five years ago," Ethan says. "I'm trying to help fill this gap."
After its successful launch in Virginia, Music To My Ears expanded in 2011 after Ethan attended the Kids Are Heroes day in Frederick, Md. There, he met Allie Peterson. She and her sister, RayLee, both loved music and were eager to start a new chapter of Music To My Ears. The sisters have volunteered to teach piano, flute, guitar and harp to elementary school students and have worked to recruit other teachers. In addition to Maryland, Music For My Ears chapters have sprung up in Texas and New York state.
Back in Hanover County, Music To My Ears is preparing for its sixth school year. The group has provided kids with free lessons on several instruments, including guitar, piano, flute, violin, harp and saxophone. Aside from overseeing the organization, Ethan, now 15 and preparing for his junior year of high school, personally teaches classical guitar to four students.
Though young when he founded Music To My Ears, Ethan was no stranger to community service. He began volunteering at age 5 when he started helping his brother, Ross, now 20, with local service projects.
"From the time I first volunteered, it just felt right to me," Ethan says. "Since then, volunteerism has always been part of my life, and always will be."
Ethan, who speaks three languages, has also been active in service projects for HandsOn Greater Richmond, part of Points of Light's HandsOn Network. Through generationOn, Points of Light's youth service enterprise, he participated in the goLead program to train youth volunteers to become community leaders. This year, he was named a Hasbro Community Action Hero, and he is also a Davidson Young Scholar.
While Music To My Ears does not actively raise funds, Ethan has begun seeking grants to pay for musical instruments for low-income youth served by his program. The group has already donated a keyboard to the homeless shelter served by its Frederick, Md., chapter.
"It's satisfying to know the time you have used, and the choices you have made, have affected others' lives in a positive way," Ethan says. "But I'm just getting started."
Share this post