Filmmaker and Entrepreneur Offers Low-Cost Mentorship in Atlanta and Beyond
Meet Daily Point of Light Award honoree Forrest Tuff. Read his story and nominate an outstanding volunteer or family as a Daily Point of Light.  
Outside of making films, Atlanta native Forrest Tuff has dedicated his time to help other entrepreneurs chase their dreams with SCORE, a low-cost mentorship program and workshop for small businesses. Forrest was a mentee himself in 2015 after years of navigating the realities of founding his own film business in 2004.  
Forrest has assisted hundreds of small business owners locally, nationally, and internationally. He also volunteers at 3DE as a Junior Achievement Business Coach, preparing high school in entrepreneurship, financial literacy and career readiness. 
Describe your volunteer role with
SCORE?
I started a business back in 2004. As a business owner, you have a lot of trials and tribulations just trying to learn how to run everything. So here we go, ten years later in 2015, I found an organization that helps small businesses, which was SCORE. Not only was it a good idea to join, because now I'm surrounded by like minded people, but I'm also able to give back at this point where I have like a decade of experience as an entrepreneur. I wanted to help other business owners, especially minority business owners that weren't aware of a lot of opportunities. 
I got involved in the film industry. And I started to do very well as an independent filmmaker. Georgia became a multibillion dollar film industry and I was the only mentor in SCORE that actually worked in the film industry and had working knowledge. I actually applied and they gave me a grant to host a series of workshops about the film industry, film in general and TV. 
Describe the curriculum you teach at the SCORE workshops. 
For the workshops, we target small business owners, people that want to find work in the film industry. There were creatives and people that wanted to be directors, so I share with them a variety of different conversations. We talk about the schools that cater to the film industry and business that have internships and things like that. Then we'll talk about services that were needed in the industry, because when most people think of the film or TV industry, they think of jobs like director, producer, the camera guy and video editor, but if you look at the credits at the end of the movie, there are a million jobs. I also gave them different books and organizations that catered to those types of things so they can know where to find the information.  
How has SCORE grown since you've been involved?
Over the years, SCORE has really focused on becoming more inclusive In terms of having different types of mentors and has been working with different types of business owners. They've partnered with different associations of different nationalities to really start forwarding diversity and inclusion. On the inclusion side, now more mentors are also females. So that's been a part of the culture shift for SCORE over the seven and a half years that I've been with it.  
Also for me, a lot of what I do is one on one mentoring and workshops. I did a lot of online mentoring with people in different states, so I really got outside of SCORE. One of the areas that I focused on was the film industry. I had mentees in Los Angeles, Arizona and even someone in Seoul, South Korea.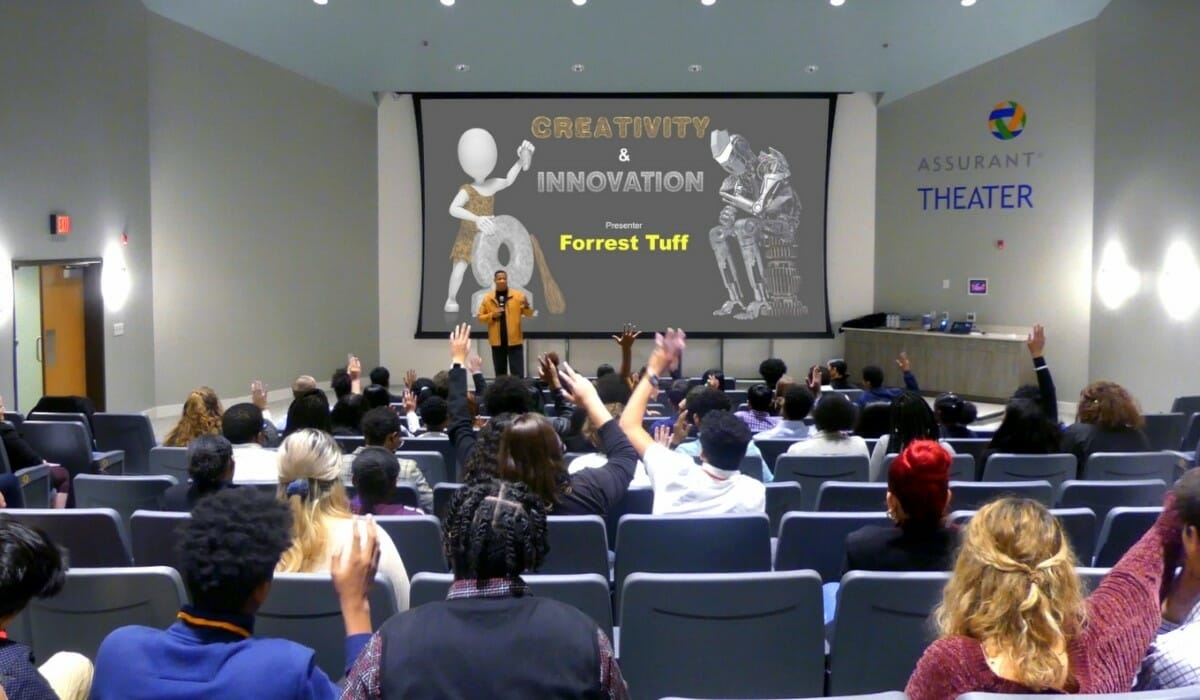 Do you have a favorite memory from mentoring with SCORE? 
It was actually a time when I was working with an organization, they were very well off financially. The problem they were having was between a mother and a daughter, they were just having a huge disagreement about the business. Somehow I've received this case, and I was talking with them and it was great because having this conversation with a mother and a daughter about business, we were able to get to the things that mattered outside of the personal things that were involved. We were able to find out which things really mattered towards the business. So that was what was important. It was a different type of mentorship. We don't try to be counselors in your personal life, but it was interesting because we were dealing with things that were about the business and sticking to that was a great opportunity. 
What inspires you to volunteer?
Recently, I've started working with an organization called 3DE, and one of the things that's always helped keep me motivated is young people. I love mentoring business owners, but I've been doing this thing with 3DE where we teach young kids entrepreneurship and how to strategically look at businesses. I figure out how to help them grow. For me, being able to mentor people, especially youth and business owners, helps them not only look at what they're doing, but to also look at alternative ways to look at a business. While you're helping others, you're also growing. 
What have you learned through your experience as a volunteer?
I've learned that you never stop learning. Even being in business now for 18 years, I'm always surprised at how much I still learn. The landscape of business changes, and now I even have mentors that are younger people that I consult with. There's so many different ways to grow and learn from others. And I think that's the biggest thing for me, I just love to learn. So when I learn, I love to share.  
Why is it important for others to give back?  
In giving back, you give back to yourself. Giving back is one of those things where you don't realize how much it also does for you. It's not just a type of monetary gain, but just in how you feel about life. It changes your perspective on life. Giving back can help fight depression and it can make you feel better to see others have success. The reason that I give back is because I like the way that it makes me feel and I find joy in watching others grow and achieve. 
Do you want to make a difference in your community like Forrest? Find local volunteer opportunities. 
Share this post