Finding Joy in Comforting the Dying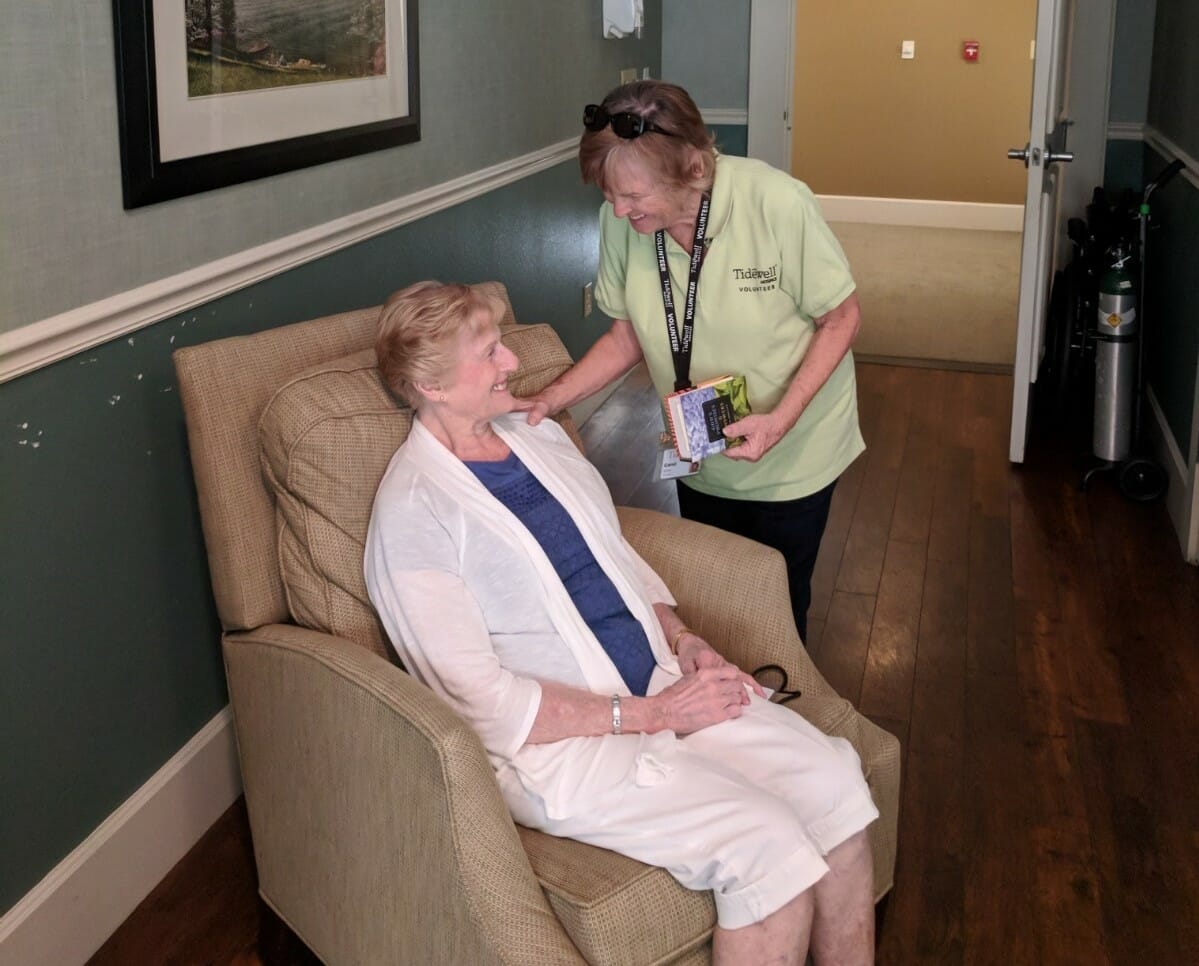 Death holds no fear for Carol Iddings. Carol lost her husband in 2006, and in the final days of his life, staff and volunteers from Tidewell Hospice in Port Charlotte cared for him. She was very familiar with Tidewell, because even before her husband's death, she was a hospice volunteer. Since then, she has given more than 2500 hours of service to Tidewell Hospice, doing everything from sitting more than 100 vigils, which involves staying with the person in their final hours or days, to visiting and engaging with 40 patients with Alzheimer's and dementia in area nursing homes. Although she has seen death up close many times as a volunteer, Carol chooses to see life, to hear a person's story, to find joy in comforting someone who might otherwise be alone. She believes that death is a part of life, which makes consoling the dying her greatest source of happiness.
Carol is committed to making a difference in her community and she is today's Daily Point of Light Award honorees. Points of Light spoke with her about her commitment to service.
What inspires you to volunteer?
I first learned about hospice reading about a 20-year-old hospice patient, a young girl from the Boston area, which is where I come from. The article was a call for volunteers, and I was impressed. It was the best thing I could have done, because my patients are my inspiration. Each one affects me in ways I never expect.
Describe your volunteer role.
We work with the dying to make the end of their lives better by giving comfort in many small ways. We have two programs, the regular hospice program for folks that have a clinical diagnoses of less than six months to live, and transitions, for people who don't have a diagnosis but are still declining, perhaps Alzheimer's patients. I visit many patients in transition and also offer respite care so that caregivers can take a break. I spend about 500 hours a year visiting patients in nursing facilities, doing respite care, vigils, transportation and for the last few years mentoring new volunteers.
What's been the most rewarding part of your work?
The relationships with my patients most definitely. There is a special space to sit, to listen, talk, laugh, and answer their questions when I can. They make me smile. I can visit a woman in a wheelchair and she's just speaking gibberish. I have no idea what she's saying, but I can make her smile and laugh, can give her a hug. Some of my patients might not know my name even if I've been visiting them for two years, but they know I'm important to them.
What have you learned through your experiences as a volunteer?
I've learned that death is a part of life; it is just like birth, we do it in different ways but we all follow the same script. Also I've learned that because somebody is old doesn't mean they should be ignored. This is a person with something to offer, to share. It breaks my heart sometimes to see the way this country treats death and dying and older people.
Are there any future partnerships, programs, or events that you are excited about?
We have a nice music program that we are trying to get started, bringing donated iPods loaded with music to Alzheimer patients in nursing homes. I'm looking forward to that.
Why do you think it's important for others to give back?
Because it gives me such joy. Really what would I be doing with my time all day, particularly after my husband died? I live alone. This work has given me a purpose. The people who volunteer with me are like family and my patients become good friends. If you don't volunteer you miss out on a lot. The more I volunteer, the happier I am.
What do you want people to learn from your story?
To not be afraid, to learn about the end of life experience before it happens to you. We have a wonderful book we give to families that lets them know what to expect during the process, but usually they are too busy to read it. I explain to them as I can, which I think is also a comfort. Working with the dying is a privilege and I wholeheartedly recommend it.
Do you want to make a difference in your community like Carol? Visit All for Good for local volunteer opportunities.
Post written by Beth D'Addono
Share this post