Former Military Spouse Continues to Serve Her Community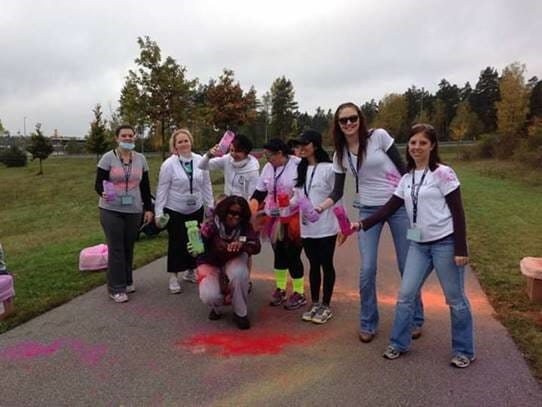 Towson, Maryland resident, Michelle Merson, has long dedicated herself to giving back to those around her. While her husband, John, was serving in the United States Army, Michelle became involved in the military community and found many ways of her own to serve.
When the Merson Family was stationed in Germany, Michelle, a German citizen, used her connection to the community to fill a need for many military families. Michelle volunteered for the unit's Family Readiness Group, assisting military families to resolve issues associated with living in foreign countries.
During her career as a medical translator, Michelle worked in conjunction with the U.S. Army medical efforts and, when her husband deployed, she continued to support other families while taking care of her own family by herself. She volunteered to translate documents in support of emergency Red Cross notifications, which allow deployed service members to take emergency leave when a loved one is undergoing a major medical emergency.
In 2012, when her husband took a position with the Warrior Transition Unit, Michelle led a Family Readiness Group and used her skills and position to augment the unit's efforts for those families in transition. Michelle educated German military spouses on the immigration process and held coffee groups to discuss cultural differences and how to prepare for living in America. For families with American-born spouses, she continued to assist them with issues related to residing in Germany.
Michelle volunteered with numerous organizations throughout her husband's Army career, including the U.S. Army Garrison Schweinfurt, U.S. Army Garrison Vilseck, United Service Organizations, Red Cross and Wounded Warrior Project.
Today, Michelle continues her commitment to service work—as a volunteer lunchroom aid at Riderwood Elementary School and, most recently, with Backpack Rescue, a Baltimore nonprofit that assists victims of human trafficking. Michelle assists in collecting hygiene, comfort and clothing items for distribution to victims of human trafficking.
Three and a half years after her husband's separation from the Army, Michelle and her family continue giving back to their community and hope to encourage others to volunteer and help connect them with ways to meet community needs.
When asked why she thinks it's important for others to give back, Michelle replies: "Humility and gratitude are important to leading a balance life; if you only take without giving back you lose your balance."
Do you want to make a difference in your community like Michelle? Visit All for Good for local volunteer opportunities.
Share this post