Frontline Families AmeriCorps Member Serves Veterans, Promotes Fire Safety in Her Community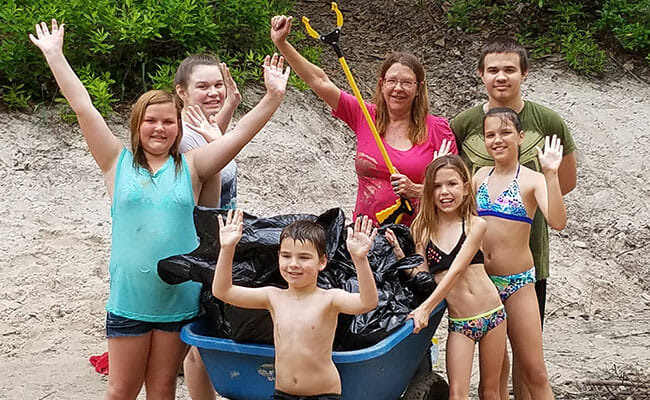 Wendy Samples may have been the only Frontline Families AmeriCorps member in the entire state of Mississippi over the last year, but her friend and colleague, Heath Dearman, said she has been the perfect fit for this role.
"Wendy is definitely a go-getter and takes a lot of initiative," said Heath. She is a full-time volunteer with the American Red Cross serving in many capacities, including Frontline Families — a national service AmeriCorps program run by Points of Light. Wendy has a heart for service and is very generous with her time, also volunteering with her local fire department and the Department of Veterans Affairs.
"We've been in the service for all of our lives," Wendy said. With longstanding ties to the military – her grandfather, father and husband all served in the Navy, and her oldest son is an Iraq War veteran – Wendy has always wanted to give back to the military community.
Wendy has seen in her own family how, "active duty and veteran involvement in their communities does lead to more fulfilling lives for all community members and military personnel." This belief, along with her dedication to serving her community, led her to give a year of service to Frontline Families, which gives military service members, veterans and their families the opportunity to connect more deeply with their communities, using volunteerism as a tool to help them transition back to civilian life.
One of the ways Wendy has connected with the community of veterans in her area and beyond is through planning the National Veterans Golden Age Games. This Olympic-style competition is held once a year and is designed to improve the quality of life for veterans ages 55 and up through sports and recreation. After a year of planning for the event, Wendy coordinated more than 1,000 volunteers who gave upwards of 8,500 hours of service.
Commitment to service is a family affair in Wendy's household. In addition to the extensive military service of her family members, Wendy, her husband, and another of her four children have all worked or volunteered with their local fire departments – and Wendy became a medically certified emergency medical responder. "Her first instinct is to help people," said Heath. When a tornado hit Hattiesburg, Mississippi, in early 2017, Wendy was initially called as a disaster responder. Her work in Hattiesburg quickly evolved into a support role doing casework for MEMA and FEMA in their relief efforts, and the project became part of her Frontline Families journey.
With her family's service with local fire departments, it's no surprise that the American Red Cross' successful Home Fire Campaign was also part of Wendy's Frontline Families program – and has become one of her largest ongoing projects. The Home Fire Campaign is focused on fire safety education and on installing smoke detectors for those who don't have them. In March 2017, Wendy and her team were able to install 446 smoke detectors and reach 379 residents in rural Jackson County, helping to keep those residents safe.
Wendy believes deeply in volunteerism, instilling the spirit of service in her four children and six grandchildren. She believes no person is too young or too small to give back, even her youngest grandchild at just 6 years old. She said the biggest lesson she's learned from serving as a member of Frontline Families is to "just have more faith in yourself and you can make a difference. Everybody can make a difference in your own way."
To find volunteer opportunities in your area, search All for Good.
Share this post