94-Year-Old Honor Flight Volunteer Ensures All Veterans Get Their Moment of Honor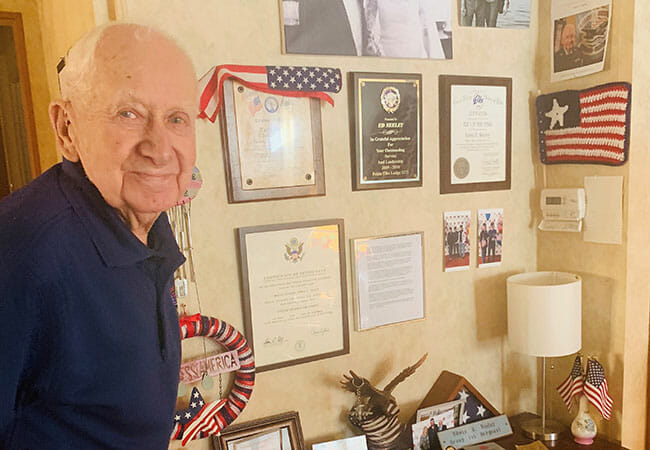 Meet Daily Point of Light Award honoree Gene Neeley. Read his story and nominate an outstanding volunteer or family as a Daily Point of Light
Edwin Eugene "Gene" Neeley makes sure that every veteran gets their moment of honor. At 94 years old, the World War II veteran is the secret weapon for the Greater Peoria Honor Flight, where he seeks out and encourages veterans to take a special flight to Washington, D.C., at no cost. In his volunteer role, Gene looks for veterans who have not yet participated in the honor flight, which brings veterans to the nation's capital to visit the memorials, and helps them understand that their sacrifice is never forgotten. He has become the radiant face of the honor flight, and his love for the brave men and women who have served our country is contagious.
During his senior year of high school, Gene was told that he would be drafted into the war. From the very beginning of his time in the military, he had a simple, yet powerful mentality: serve others, and do the best that you can. He served from 1943 through the end of 1945, and joined the Illinois Air National Guard's 169th Fighter Squadron following his to the United States. After 20 years of service, Gene retired from the Air Force in 1962.
It was Gene's granddaughter who introduced him to the Greater Peoria Honor Flight in 2013. Part of the Honor Flight Network, the volunteer-run chapter in Peoria, Illinois, has honored the service of more than 1,200 local veterans, with each participant bringing along a guardian to foster empathy and bonding experiences.
It was this granddaughter who accompanied Gene on his own honor flight, and stood alongside him as they marveled at the memorials in Washington, D.C., and the awestruck faces of the veterans around them. There were no words to describe what the honor flight meant to Gene, who has taken only one flight because he never wants to take the seat away from another veteran who could share in that experience.
Now an honor flight participant turned volunteer, Gene is described as the Energizer Bunny that keeps the Greater Peoria Honor Flight inspired. He does outreach for the organization in public places, fundraises, and gives presentations about the flight — but his biggest job is advocating to other veterans, and not taking no for an answer from those who initially think that the trip is not for them.
"Gene is the face of honor flight," said Phyllis Piraino, vice president of the Greater Peoria Honor Flight. Gene and Phyllis became fast friends and are the organization's dynamic duo. Together, they seek out as many supporters as possible and show veterans that they are worthy of accepting an honor flight invitation.
Many veterans believe they don't deserve a trip on an honor flight because they did not serve overseas during a war or that their time didn't make a true difference.
Gene knows that every veteran has their part to play, and without him, many would never have gone on a flight. "We work to take care of our veterans. That's number one in my book," he said.
Upon return from their visit to Washington, D.C., veterans often begin to open up and tell stories they've never told before. The honor flight experience has been therapeutic for hundreds of men and women, and Gene is dedicated to guiding them on this path to peace and healing.
"As a veteran, I served because I believe I should be doing that for my country," he said. "I still do that same thing for the Greater Peoria Honor Flight."
In addition to finding veterans to invite to the honor flight, Gene is involved in local community events. Nets for Vets, a Greater Peoria Honor Flight fundraiser hosted at local elementary and middle schools, gives children the opportunity to win an iPad for every $10 they raise. Veterans lead the event during P.E. classes, and Gene's enthusiasm caught the attention of several principals – eventually leading to more schools participating in the fundraising event.
Schools helped raise more than $10,000 during the first year of the fundraiser, and the idea began to spread. To date, more than $300,000 has been raised to send veterans to Washington, D.C., with $106,000 raised by kids for the Greater Peoria Honor Flight in 2018 alone.
Gene helps those around him remember what an honor it is to know and thank a veteran. Today's children will be the last generation to be able to shake the hand of a WWII veteran and thank them for their service. Every Thursday morning at the local grade school, eight or nine veterans from WWII and Vietnam greet kids as they come off their school bus. Thanks to Gene, spaces are being created to not only honor veterans, but also give youth access to meet living history.
What's next for Gene and the Greater Peoria Honor Flight? He and Phyllis will be traveling to Normandy, France, for the 75th anniversary of D-Day. They will travel for two weeks with Veterans Back to Normandie, an organization that helps veterans pay their respects to their comrades who never returned home and bridge memories across generations.
Gene is committed to showing veterans that their service matters. He does whatever he can to give veterans in his community the chance to experience an honor flight, and he finds joy in making days a little brighter for somebody else.
Do you want to make a difference in your community like Gene? Visit All For Good for local volunteer opportunities.
Share this post
---