Georgia Cheerleader Uses Her Spirit for Service to Help Others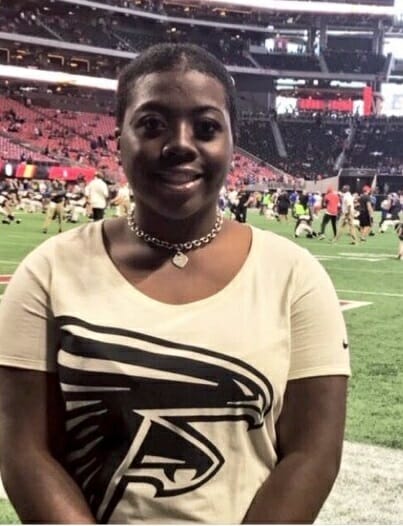 For most high school seniors, being an honors student, a varsity cheerleader and the student government class vice president would be enough to stay busy. But, not for Chioma Ajuonuma. Instead, this Atlanta-area resident spends as much time as she can giving back to others in her community.
At any given point during the month, Chioma can be found coaching young girls interested in cheerleading, tutoring veterans working on professional training, providing resources to homeless families or pitching in at hospitals and health departments. It's service that leaves a positive imprint, she says, even if the result isn't immediately visible.
Points of Light talked with Chioma about her myriad of volunteer activities and what she does to help others.
How did you get involved with the Parks and Recreation cheerleading?
I've been cheerleading for eight years, and I've always wanted to coach. One day, I drove by Parks and Recreation and saw the cheerleaders practicing. I went up to the manager and asked if they needed an assistant coach. They did, and, this year, they made me the head coach. I plan practices, teach them competition routines and [develop] halftime shows.
I started around July of last year. The girls are between 4 and 8 years old. I love it — it's so much fun.
Did you create Boxed with Love on your own? Why was this something that was so important for you to do?
I created this on my own. My mom helped me a bit. While we were in downtown Atlanta once, we noticed [there were] a lot of homeless people. So, my mom and I got boxes and decorated them, putting toiletries and things that people might need in them. We invest our own money, but we're hoping to get sponsors to help us out in the future. I've been doing it for about four years, and we've done about 30 boxes that we give out every time we're in that area. We just hand them out ourselves, usually to people who are living under bridges.
The people who have received the boxes seem to love it, and we've gotten a lot of thanks. I didn't know this before, but there are a lot of moms and kids who are homeless under the bridge. So, we've started putting toys and diapers in the boxes, too.
How did you get involved with volunteering at hospitals and health departments?
During one summer, I volunteered at Grady Memorial Hospital, and I really enjoyed it. I worked in labor and delivery. The next summer, I wanted to work closer to home at the Board of Health. And, there, I played a role in making sure that kids got all their immunization shots for school. I worked in the back of the office where I weighed them and got them ready for the nurse.
What made you want to get involved with tutoring veterans?
My grandmother has a company called CCME Training Services. And, the veterans that come there are working to get certified for doing several trade jobs, like plumbing and other mechanical professions. Some of them needed a little help because they were having trouble. I noticed that some of the stuff they were working on were things I was doing in high school, and I asked my grandmother if I could come down and help.
I've [tutored] three veterans pretty regularly. I help them with their reading to better understand questions and take their time to analyze paragraphs, and I help them with algebra.
What types of impact do you feel you've been able to make?
We don't often notice the impact because we're just out working. But, one day this lady at Wal-Mart approached me and said how much her daughter loved working with me at cheer. How much she was going to miss me. The mom wished me good luck later in life. That made me realize that people pay attention — that even if it's something small that you can do, you should try to do it because people will remember you. It will make a difference in their lives.
Do you want to make a difference in your community like Chioma? Visit All For Good to find local volunteer opportunities.
Share this post