Great Schools Partnership Creates a Unique Outdoor Classroom for Underserved Students at Tennessee Elementary School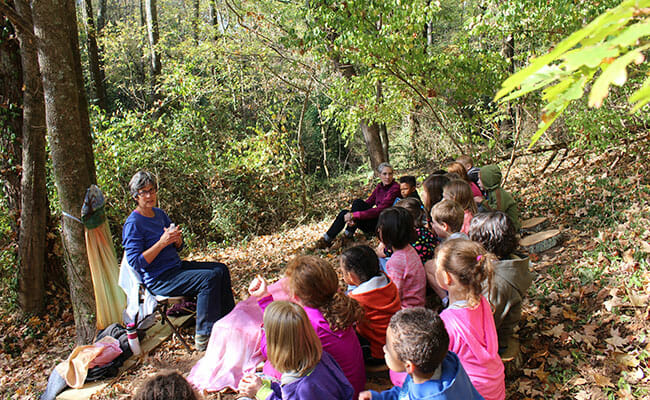 The Great Schools Partnership is today's Daily Point of Light Award honoree, and one of the winners of the 2016 Make A Difference Day Awards. Each year, TEGNA recognizes 14 outstanding leaders of Make A Difference Day projects, awarding $140,000 in grants that are donated to the charities related to the winning projects. Learn more about Make A Difference Day and register a 2017 project at www.makeadifferenceday.com.
Resources are stretched thin at Dogwood Elementary, a low-income school in South Knoxville, Tennessee. Nearly half of the school's 750 students are eligible for free lunch, and the school is among the poorest in the county. With leadership from Great Schools Partnership's Adam Fritts, site coordinator for Dogwood, and guidance from the local CAC AmeriCorps program, a dedicated group of 58 volunteers from all walks of life joined forces on Make A Difference Day 2016 to transform the overgrown wooded area behind the school into a unique outdoor classroom – providing students a hands-on opportunity in which to learn about environmental conservation. That day, volunteers also began to clear a trail in the woods behind the school, with the goal of connecting it to the 12-mile Urban Wilderness Trail system along the Tennessee River. In addition, they began work on a nature observation deck and seating area cut from nearby fallen trees.
The Great Schools Partnership was awarded a $10,000 grant for this effort on Make A Difference Day – a little extra money to do a lot more good for the 750 families of Dogwood Elementary. We asked Ariel Allen, CAC AmeriCorps program specialist at Knoxville – Knox County Community Action Committee, to tell us more about the project and the continued work taking place to further improve this incredible outdoor learning experience.
What inspired the "Classroom with a View" project?
Mac Post, a volunteer with the Sierra Club, was exploring behind the school one day with students in his Outdoors Club and noticed an overlooked and overgrown trailhead which led into the woods. Once he followed it in, he noticed a deserted observation deck, staircase, amphitheater stage and started asking questions. Faculty soon realized the great opportunity to teach their students about the rich biodiversity in their own backyard. Not only could they teach this but they could bring their students to the space and have them interact with the outdoors in an immersive way. This location is also central to the already expanding Urban Wilderness trail system in South Knoxville. We knew that we could connect students to the outdoors but also much more literally connect this educational space to the growing trail system and greater South Knox community.
Tell us a little more about what your volunteers did on that day.
Volunteers included community members, school faculty and students, and AmeriCorps members from CAC AmeriCorps – which focuses on environmental education, stewardship and service – and Emerald Youth Foundation, totaling 58 volunteers and 232 volunteer hours. On that day, we completed clearing out the remainder of the trail of invasive species plants to ensure the health of native plants in area and trail visibility, built seating for kids made out of tree cookies and logs, and started building new observation deck (which is now complete!).
What was the most rewarding part of the experience? A favorite memory?
The very next week after we completed the project, the entire first grade at Dogwood Elementary came to the newly finished Dogwood Nature Trail for a field trip. There were six stations, including information about native animals in Eastern Tennessee, a "Forest Theater," a re-enactment of real East Tennessee homesteaders – the Walker Sisters (students even got to make their own homemade applesauce!), a DIY bird-feeders station, a talk with a local entomologist, and a water quality demonstration. The students were SO excited be outside and had a truly wonderful experience learning the natural history of the area by exploring the trail. To see a child connect with the outdoors truly makes them aware of the balance of our ecosystem and the importance of preservation.
Why do you think it's important for others to get involved and make a difference in their community?
Once you follow through and make that first difference, no matter how small, it gives you the confidence, knowledge and skill to continue to make change or improvements in your community. It teaches you that you don't have to watch from the sidelines. You can be the changemaker.
As a 2016 Make A Difference Day Award Winner, Great Schools Partnership was awarded a $10,000 grant for this project. What will that money go toward?
We really want to create a space that has creative input based on needs and opinions of those who will use it the most: the community! Currently, Dogwood Elementary staff is surveying students, faculty and parents about what they want for this new community space. Their wish list will directly determine how to best spend this money. Ideas so far: a slack line course, interpretive signage, and even a restroom and water access for students during excursions.
What do you want people to learn from this story?
The power of leveraging your network. It took one person who stumbled upon the space to be inspired enough to reach out to one other person, who then turned around and contacted three more people who eventually contacted me, and so on and so forth. A task can be daunting at first glance, but once you have a handful of inspired people with various skills and backgrounds, the task quickly becomes more feasible.
What are your plans for Make A Difference Day 2017?
We are planning on teaming up with Dogwood Elementary and Great Schools Partnership again and completing even more on our wish list for the space including clearing and widening the trails to make them more ADA accessible, creating more seating for class trips, installing signage and building an archway for the entrance of the trail system.
Volunteers across the nation will come together again on Saturday, Oct. 28, to improve their communities for Make A Difference Day. Project organizers are encouraged to register at www.makeadifferenceday.com to be eligible to win a $10,000 grant to donate to a charity related to their Make A Difference Day project.
Share this post