Honoring the Memory of her Sister, Tamron Hall Works to Raise Awareness of Domestic Violence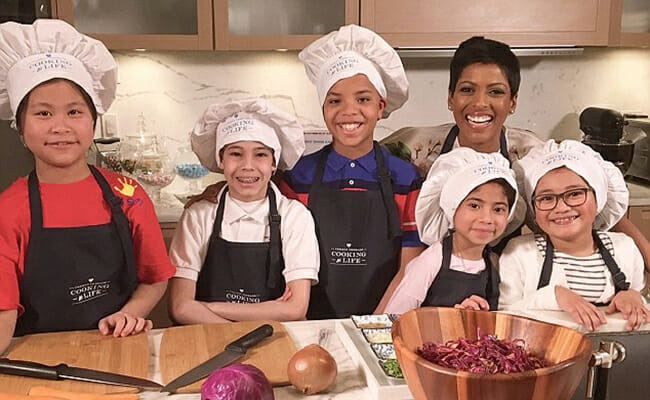 Meet Daily Point of Light Award honoree Tamron Hall. Read her story and nominate an outstanding volunteer, family or organization as a Daily Point of Light.
Tamron Hall is an award-winning journalist and host of Deadline: Crime with Tamron Hall on Investigation Discovery, where she takes an in-depth look at complex and compelling crimes that have shocked the nation. She was previously a co-host of the third hour of NBC's Today Show and anchor of MSNBC Live with Tamron Hall. In 2015, Tamron received the Edward R. Murrow Award for Reporting: Hard News in Network Television, recognizing her segment on domestic violence as part of Today's "Shine A Light" series.
She is involved with several charitable organizations that strive to end homelessness and illiteracy, and is a passionate advocate for victims of domestic violence. After her sister, Renate, was killed, Tamron wanted to help raise awareness about domestic violence. Working with Safe Horizon, an organization that provides assistance to victims, Tamron launched The Tamron ♥ Renate Fund to honor the memory of her sister and to help victims and families affected by domestic violence.
We sat down with Tamron to learn more about her work, and what inspires her to serve.
What inspires you to volunteer?
My grandfather's legacy and what he taught me inspires me to volunteer. He had only a second-grade education and lived in a very rural part of Texas. Even though he had very little money, what he did and shared with others has been the core of my family values. His church was a foundation of spirituality, and he lived a life of giving and expecting nothing in return.
Why do you think it's important for others to give back?
If we are only here to consume, is that a life you really want to live? I feel most people understand the importance of volunteering. Yes, we get caught up in our own lives, the ups and downs and distractions that can put us in a bubble. I think for most it's a temporary thing as we know the world is connected by how we treat others and what we do to elevate others.
What have you learned through your experiences as a volunteer?
I've learned the power of giving. It's not about feeling good or a pat on the back. The power comes from knowing you made a choice to give and love. That energy is undeniable and it helps me in my hardest and darkest moments.
Are there any future partnerships, programs, or events that you are excited about?
I'm excited to continue to grow my partnership with Safe Horizon through The Tamron ♥ Renate Fund. I never expected to be a voice for the survivors of domestic violence. As the years have gone by I know without a doubt it's what was meant for me to do.
What do you want people to learn from your story?
My story is one that continues to change. I know the version of my life people see today is sometimes seen through the prism of TV, which can appear far more glamorous or exciting than it is. I've worked since I was 14. My family instilled in me a strong work ethic, but they constantly reminded me and stressed the importance of giving. We all need help in different ways. I know this journey is not easy. Trust me, my family was built on the legacy of a man who had nothing but gave so much. I am still the kid from Luling, Texas, and nothing will ever change that fact.
Share this post