Houston-Area Resident Steps Up to Organize Church and Community-Led Recovery Efforts After Hurricane Harvey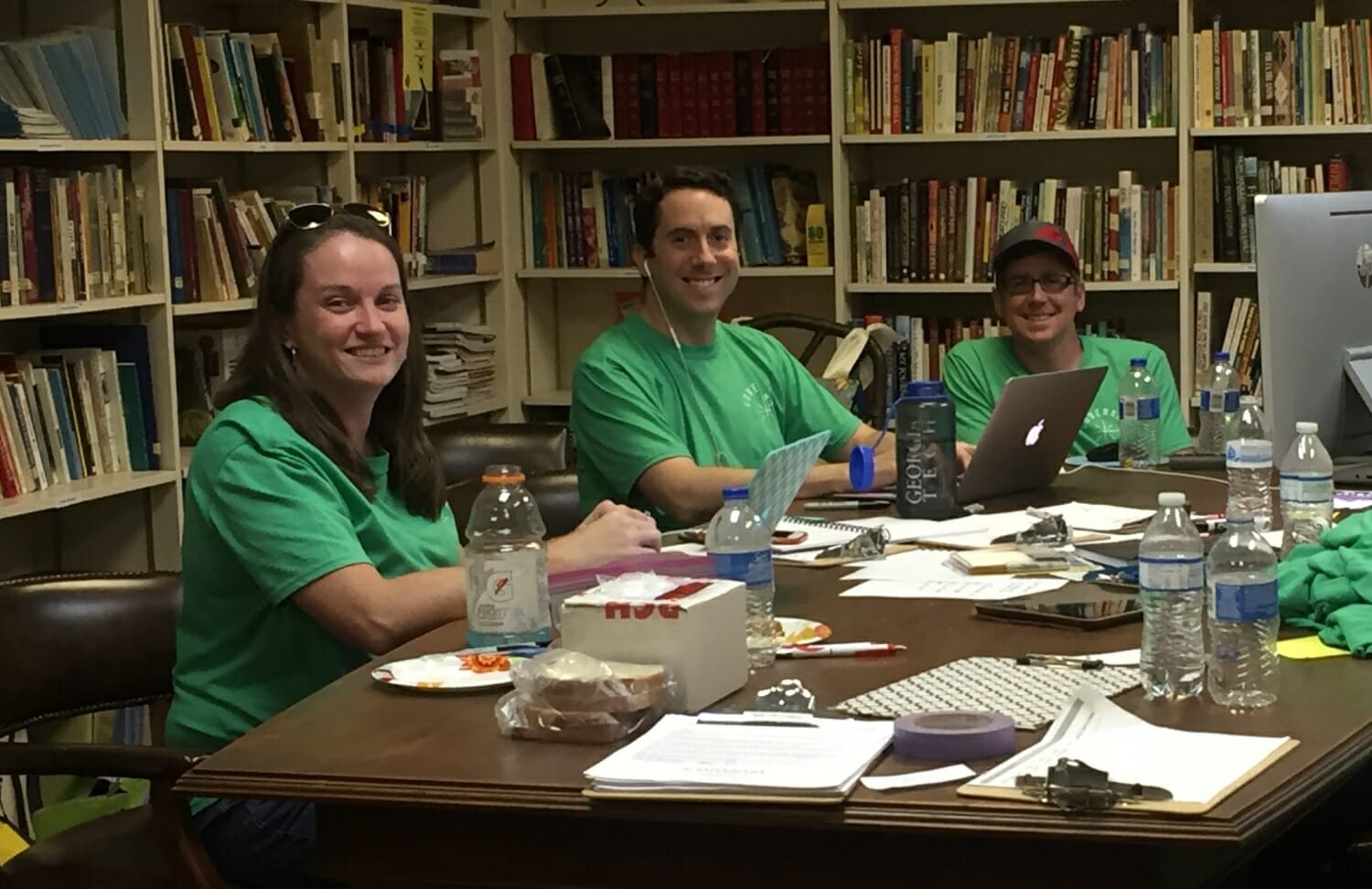 After Hurricane Harvey devastated the greater Houston area, many residents stepped up to help their fellow Houstonians. One of those volunteers was Bryan Grant, who used organizational skills honed at his day job as part of Halliburton's Global Human Resources Business team to support recovery efforts being made by local churches and community leaders.
Bryan is today's Daily Point of Light honoree, and he talked with Points of Light about what moved him to serve and why it's important for communities to come together both during times of crisis and every day.
What inspired you to volunteer in response to Hurricane Harvey?
I was in Houston for Hurricane Ike, and felt guilty and frustrated that I could never find a way to help. Harvey impacted everyone, everywhere in Houston. It didn't hit certain parts of town, or certain types of people–everyone across the city was either impacted or knew people who were–it was personal. It felt like our city was under attack, and I wanted to do something to help.
Describe your volunteer role during Hurricane Harvey.
A few days after the storm, I told my pastor to let me know if there was anything I could do to help out. He let me know there might be a way he could use my organizational talent. The next day I stepped into a loosely connected coalition of church and community leaders. I quickly brought organization and structure to the group. I organized our command center, response structure and volunteer leadership roles. I then led the ongoing, real-time deployment of volunteers, tools and equipment across the community.
The needs were so great across the city, it took a few days before we found the right system to identify needs and efficiently deploy people and equipment. We found a critical element was to have volunteers going door-to-door in high impact areas to determine "who" need "what" type of help. We became so efficient at gathering needs and deploying resources that another 4-5 churches and volunteer groups came to us looking for places to be put to work. We estimate that we directed the efforts of over 1,000 volunteers helping roughly 150 impacted homes.
What have you learned through your experiences as a volunteer?
There is a role for everyone to play – all you have to do is ask! My skills are not demolition or hauling debris, but I know how to bring order to chaos in fluid situations.
I also learned that help comes from more than just big organizations and large facilities, all you need are people and passion. Our church isn't breaking ground on our first building until 2018, and even without a building we were able to have a massive impact on the community.
Finally, social media is a critical component of any volunteer effort–from identifying needs, to building awareness, recruiting volunteers and requesting specific supply donations–we quickly recognized it was an essential part of maximizing the effectiveness of our response efforts.
Why do you think it's important for others to get involved and make a difference in their community?
One individual at a time, deciding they are going to help… I think it's the only thing that's ever really made a difference. There are lots of big organizations and national charity groups, but at the end of the day, it's people helping people and neighbors helping neighbors that builds communities. Volunteering doesn't have to be some big event or something you have to go out and sign a waiver to do – everyone has an opportunity to make a difference in someone else's life, every day.
Are there any future partnerships, programs, or events that you are excited about?
Contractors are beginning to price gouge people for supplies and work. So my church, Covenant United Methodist, has begun helping families start rebuilding their homes. We're gathering small groups of volunteers for one day, focused efforts to collect and hang drywall in flooded homes.
We're also excited about our ability to respond to future disasters. We now have a battle-tested system/plan in place that will enable us to respond quickly and efficiently to a crisis.
What do you want people to learn from your story?
I think it's important for everyone to know that there is a way they can make an impact. During Harvey I saw moms with kids driving supplies around, high school sports teams demoing houses after practice, small businesses donating food and supplies and countless individuals walking up and asking where they could help.
Sometimes the needs are so great and can seem overwhelming, but if you look closely and are just willing to ask, there's a place for everyone's gifts to be put to use to help their neighbors and communities.
Do you want to make a difference in your community like Bryan? Visit All For Good to find local volunteer opportunities.
Share this post