Idaho Teen Finds Value in Giving Back as a Hospital and Zoo Volunteer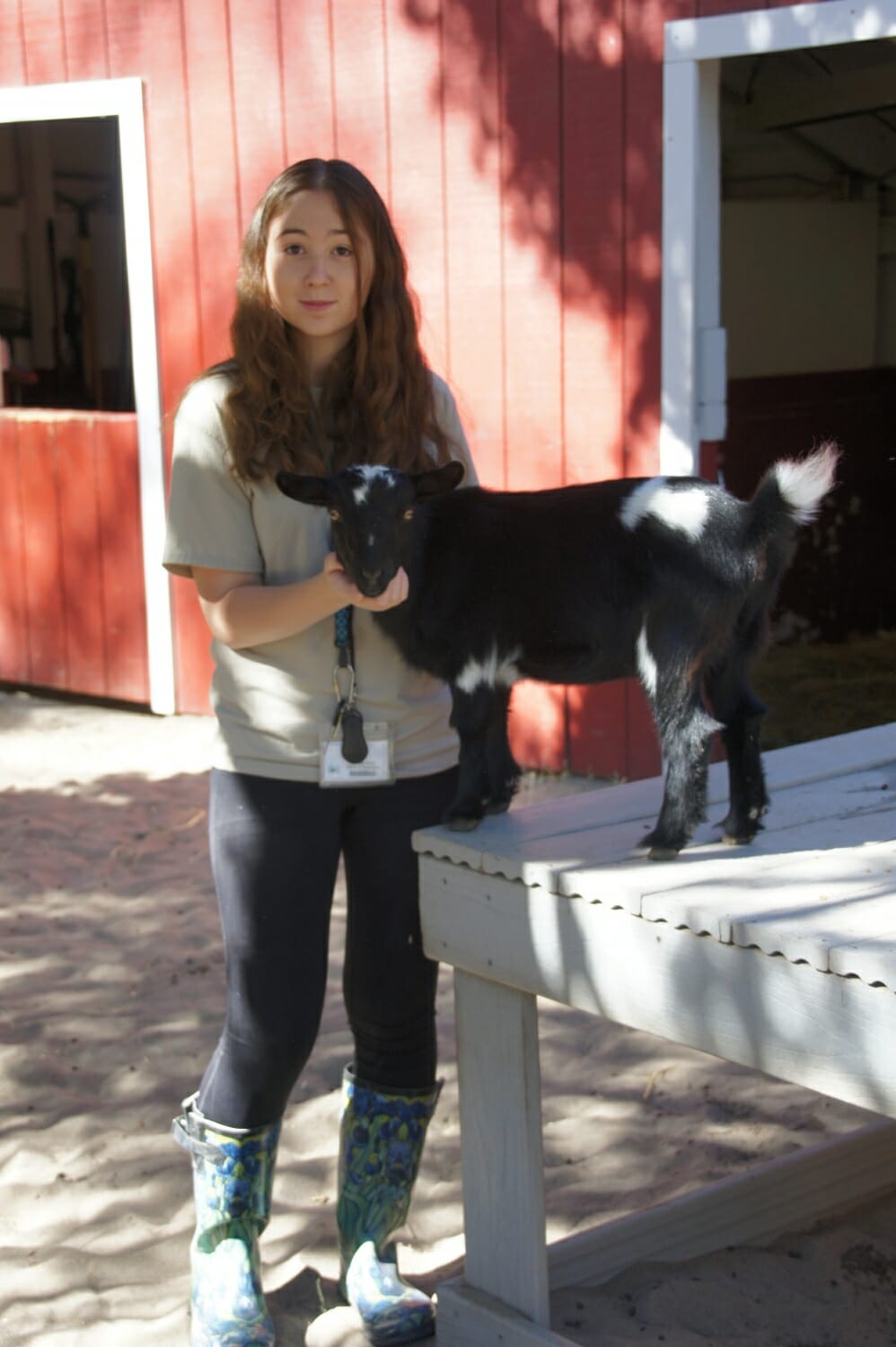 Idaho Falls, Idaho teen Jenna Bauer fell in love with volunteering at an early age. The high school student keeps busy in her community helping both humans and animals as a volunteer for the local hospital, the Red Cross and the Idaho Falls Zoo. Jenna is today's Daily Point of Light, and she spoke to Points of Light about why she feels it's important to give back.
What inspires you to volunteer?
I am inspired by the volunteers that I work with. There are people who have been volunteering for decades in some of the places I work. I find their commitment and passion for what they do a good model for me. I too want to be an active member of my community.
Describe your volunteer roles.
I volunteer regularly at the Eastern Idaho Regional Medical Center (EIRMC), the Snake River Animal Shelter, the Red Cross Blood Donor Center and the Idaho Falls Zoo.
At EIRMC, I work at the information desk, and I help visitors find patient room numbers, escort patients and visitors around the hospital and other duties. I enjoy taking an active part in the recovery of others.
At the Red Cross, I work at registration or the refreshment table. I have also been the coordinator for two blood drives, and plan to run many more. Since I'm not yet 16, and therefore unable to donate myself, this is one way I can help my community.
At the Idaho Falls Zoo, I'm a Junior Zoo Crew volunteer and spend most of my time in the petting zoo where we feed, water, clean up after and walk the animals. I also work in education outreach, where we work to educate the public about our animals, as well as monitor the safety of our visitors.
I also volunteer at the animal shelter Sunday mornings, helping with care, feeding and providing comfort to these animals until they find their forever home.
Why is it important to you to support your community in this way?
I believe that to take without giving back is selfish and thoughtless. I wouldn't feel right about myself if I walked through life and accepted every door held open for me without holding the door open for someone else. It is the giving that makes a community.
What's the most challenging aspect of your volunteer service?
Sometimes it's the seemingly easiest things that challenge me the most. When I've had a difficult day, I need to remember that what I'm doing is for the benefit of others, and to relax, smile, and enjoy the volunteer work I'm doing. Because I work with animals and people, I see some suffering too. I feel for the animals stuck in a cage, waiting for a loving family. And for every donor who walks into the Red Cross, I know there is a recipient who is going through a life-threatening crisis.
Why do you think it's important to give back?
Society would not function very well if people worked only for themselves. For everyone who needs blood, there must be a donor. For every patient, there must be a caregiver. I admire those who give of themselves, without wanting anything in return. And I want to pay it forward. Someday, I may be the one in need of a helping hand.
What's been the most rewarding part of your service work?
I really enjoy seeing things through to completion. The happiness I feel when another person smiles is contagious. The pride I feel at the end of the day when I've reached a personal goal is a feeling second to none. And in sharing my experiences in volunteering to improve the lives of others I hope to encourage others to do the same.
What do you want people to learn from your story?
The beauty of volunteerism is working to make improvements without expecting anything in return. But that isn't to say that there aren't rewards. Everyone can make a difference, and there are endless opportunities in every community. I would tell people to find something you love and run with it. Volunteerism is a great way to try out a career and fuel a passion.
Do you want to make a difference in your community like Jenna? Visit All For Good to find local volunteer opportunities.
Share this post