In California, outdoor sports continue for those with vision loss, thanks to GO See Foundation
Meet Daily Point of Light Award honoree Allyson Buerger. Read his story and nominate an outstanding volunteer or family as a Daily Point of Light.
For Allyson Buerger, who created a foundation called GO See that helps people with little or no vision to enjoy fun adventures, the emphasis is on the word, GO.
She capitalizes both the "G" and the "O" for two reasons: first, because they are the initials of her late father, Gary Owens; and secondly, because the whole point is to get out and "go" places, despite vision loss.
The GO See Foundation, based in San Luis Obispo, Calif., has been arranging hikes, bike rides and even kayaking trips, taking advantage of California's beautiful central coast and parks. Lunches and dinners at restaurants usually follow. The once- or twice-monthly outings have slowed down temporarily, only because of the recent coronavirus pandemic.
Members are meeting these days via Zoom and other video systems, but they are eagerly discussing future outings, including snow skiing in the mountains.
"I'm the kind of man who likes to go out a lot," says Travis Sitler, 33, who has been almost totally blind his entire life. Travis was instantly interested when Allyson came up with the idea for GO See group. The two met in a separate group that helps blind and visually impaired people learn about the latest assistive technology. Since joining GO See, Travis has enjoyed visiting a sea otter exhibit, doing pottery, and other outings.
If you suspect it's a bit tricky to arrange such activities for people with little or no vision, you'd be right. Allyson has to put in the effort to line up transportation to and from the activities, as participants do not drive and live in a number of communities. She also provides sighted people to attend to act as guides for those who need them. Special equipment is needed to provide "tandem bicycling," "tandem kayaking" and "tandem skiing." Allyson has also arranged fundraising events to raise money for the group.
Allyson says she doesn't mind the work. "It's important for me to give to others because I know what it's like," says Allyson, who has been visually impaired since childhood, but has lost more of her vision in recent years. She can no longer drive and now uses a guide dog. Olga, her black lab, joins the GO See activities, along with other participants' guide dogs.
Being able to having fun not only keeps people with vision loss physically active, but bolsters emotional health, says Allyson. Her father had always encouraged her to live life as fully as if she were not diagnosed with progressive vision loss.
"I was mainstreamed through high school and did everything my friends did," she says on her website's home page. "I worked at McDonalds, was a basketball cheerleader and did drill team at half time for the football games."
Allyson married, raised a son and a daughter, and runs a custom framing and gift shop with her husband, John.
Now, she says it's important to help others avoid the isolation that can come with severe vision loss.
"The hard part is not knowing how it will affect your life," says Laurie Mileur, a former university research professor whose vision loss was a factor in her retirement. Laurie has now gone kayaking in the ocean as a GO See member, and hopes to do zip-lining. "Allyson is so enthusiastic and energetic," she adds."She opens up doors you thought were closed."
When Gail Kennedy learned about the GO See idea, her first thought was "I am so 'in.'"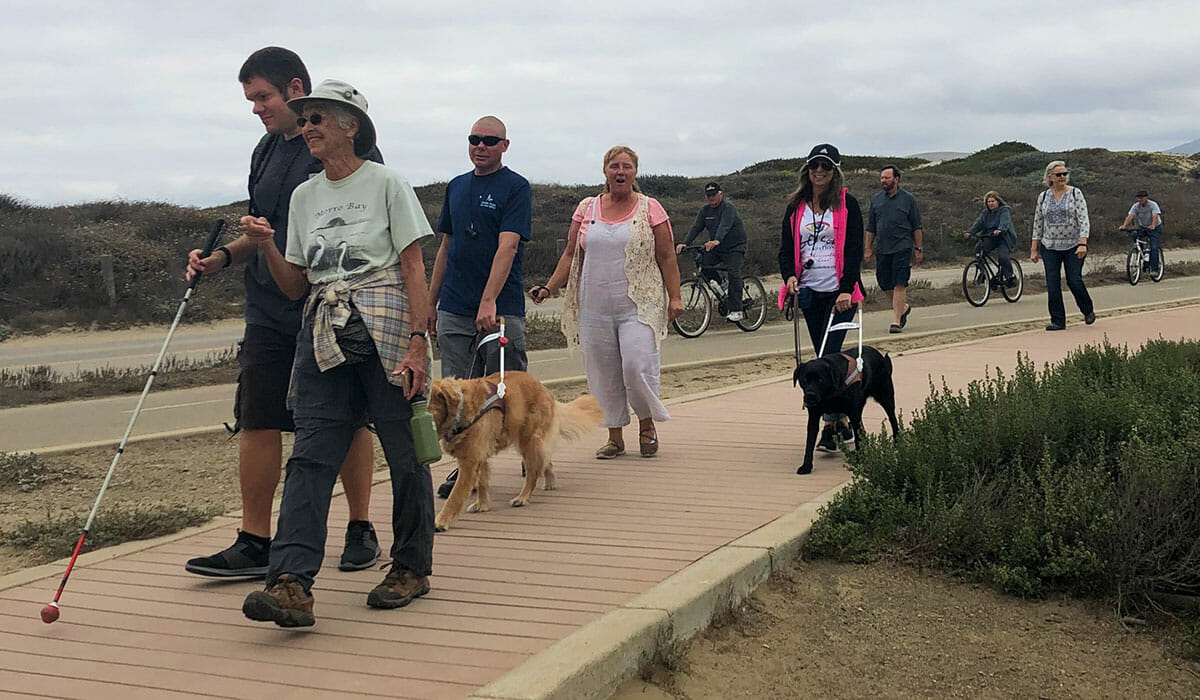 Gail, a retired early childhood educator, notes that most programs for the visually impaired tend to focus on practical skills, such as how to prepare meals or do household chores.
While there's nothing wrong with that, Gail says she and others who have lost their vision need more.
Gail has always loved to take long hikes and go kayaking, and she's grateful that Allyson has found a way for her to continue doing that.
"Allyson's foundation embraces that – live life, enjoy!" said Gail.
Do you want to make a difference in your community like Allyson Buerger? Find local volunteer opportunities.
Share this post