In Response to Pandemic Lockdowns, Teen Creates Educational Support for Kids, By Kids
Meet Daily Point of Light Award honoree Gracie Sheng. Read her story and nominate an outstanding volunteer or family as a Daily Point of Light.
15-year-old Gracie Sheng says when her district closed in-person learning because of the COVID-19 pandemic, she at times received less than one hour of classroom learning during a typical school day. Recognizing that other students were also impacted by disruptions, the Northborough, Massachusetts rising high school junior decided to fill the educational gaps through volunteerism.
Co-launching Iridium Tutoring in the summer of 2020 with a classmate, the organization is dedicated to addressing the educational inequities that surfaced during the pandemic. Connecting with more than 300 students K-12 in the United States, Mexico, Canada and China thus far, Iridium Tutoring's 100 student volunteers have logged more than 4,000 hours of tutoring in topics ranging from core classes to performing arts, as Gracie helps to support education and inspire today's youth to make an impact in their own communities.
What inspires you to volunteer?
I'm inspired to volunteer because there is a need. My service makes it easier for students to get resources they may have trouble getting otherwise. It's unexpected that a group of kids could impact people to such a degree, because most of the time we expect teachers will teach all that needs to be taught, but given the situation (during the pandemic), that simply wasn't true.
Describe your volunteerism with Iridium Tutoring.
As co-founder and director of operations, I organize curriculum, match students with tutors, and assist with our webinar projects, including our college prep resources. I am also helping to start a scholarship program for the students we tutor. Our volunteer tutors are high school and college students, which strengthens our by kids, for kids service.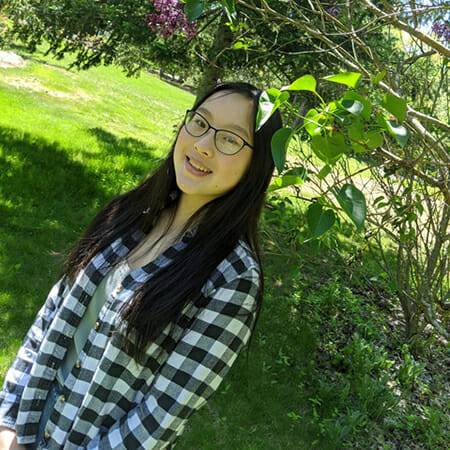 Share one personal story with me from your volunteerism.
When I was tutoring students, I worked with a 5th grader who was very shy. We were working on English, and after a couple weeks of tutoring, it seemed like the student was asking more questions and opening up about the reading material. At first, I was very surprised to see this growth, and it was exciting to know the student was being fulfilled through this education. Since most students we work with are high school age or younger, by connecting them with subjects like STEM and arts, we may be able to help them develop a greater interest in those subjects, and based upon what they learn, it'll be easier for them to choose a future career.
Why do you think it's important for others to give back?
Beyond providing people in the community with more engagement and resources, volunteers can act as leaders and role models, and that will inspire other people to get involved and improve the community.
What's been the most rewarding part of your service?
It's rewarding to work with other volunteers and the students themselves, because I feel like I've created new bonds and a lot of those bonds will last for quite a long time.
What's in the future for your volunteerism?
We will continue our volunteerism. We plan to continue offering virtual tutoring, but if the tutor and student live nearby, we might try to organize in-person activities. We hope to continue to expand tutoring across the U.S. and internationally.
What do you want people to learn from your story?
It might sound cheesy, but with effort, some things that may seem out of reach will come a little bit closer.
In one word, what does volunteering mean to you?
Appreciation.
When you're not busy with school or volunteering, what do you do for fun?
I play the oboe and the piano. I also enjoy reading and watching old-timey classic movies.
How can readers help?
Please visit our website for more information about how you can help.
Do you want to make a difference in your community like Gracie Sheng? Find local volunteer opportunities.
Share this post