Indiana Sisters Give Back to the Community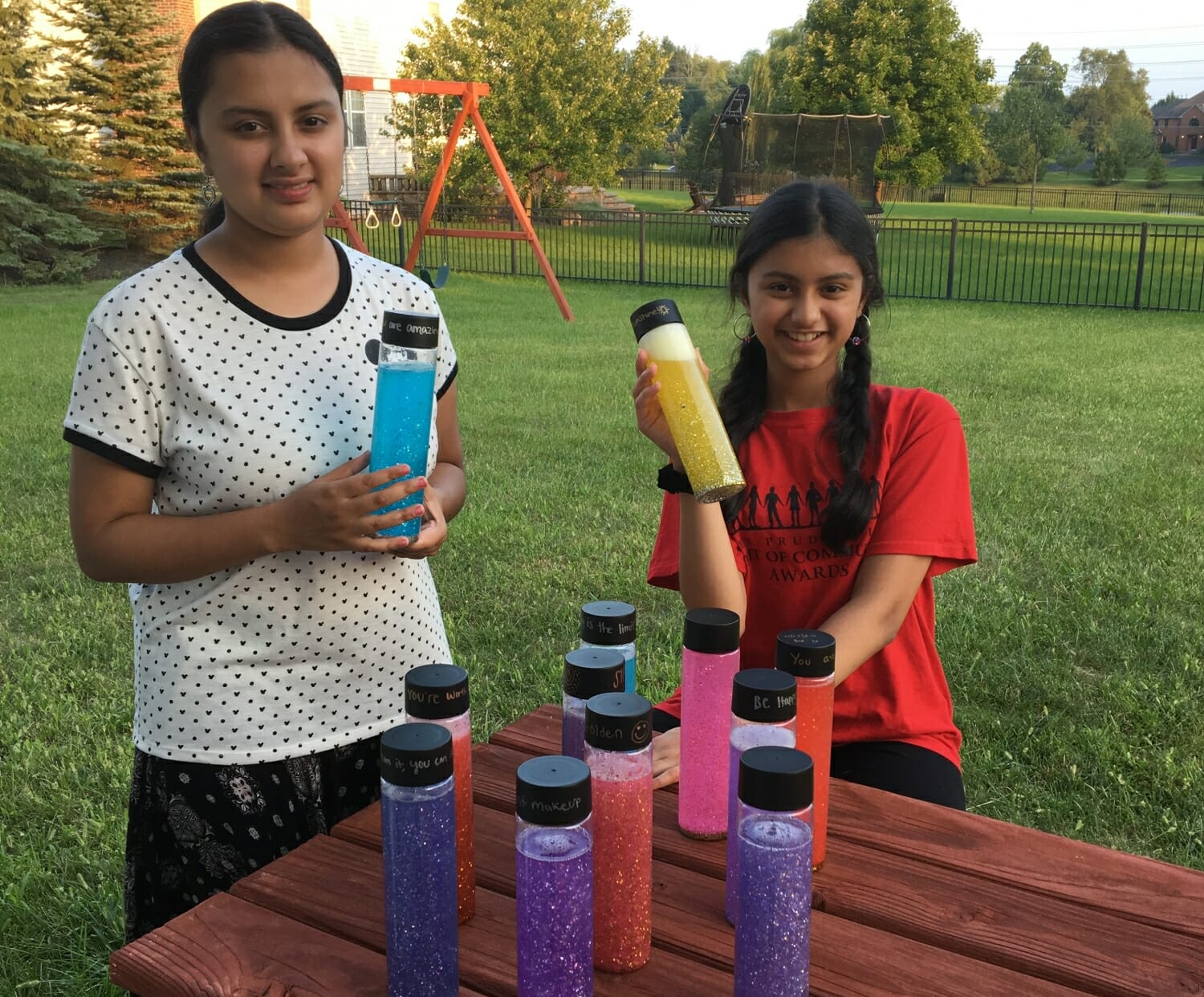 For Anitha and Vani Sharma, everyone is a star–and they're on a mission to help every star shine its brightest. The dynamic sister duo initially started volunteering in 2011 at their local Ronald McDonald House, and they've been using their talents and passions to give back to their community of Fishers, Indiana ever since. They continue to serve meals at the Ronald McDonald House, and have found other ways to make a difference, including performing music for guests at the Ronald McDonald House (Anitha plays the flute, Vani the clarinet), collecting and sorting gently-used footwear for donation to Changing Footprints, cleaning up local parks, and reading books to young children during storytime at Barnes & Noble.
In June, they launched their signature "Glitter Jars for the Stars" project, creating calming glitter jars to donate to rehabilitation therapy, autism, and senior living centres. They made more than 100 jars last year, each one accompanied by an uplifting note to bring joy to the recipient.
Points of Light spoke with Anitha (17) and Vani (12) to learn more about their commitment to service.
What inspires you to volunteer?
Anitha Sharma: My inspiration to volunteer started in 2011, when I was admitted to Riley hospital and I came across several volunteers who were performing various activities with a smile. Specifically, I was moved by the volunteers who served meals at the Ronald McDonald house since my family also had to eat there for a few days. I did visit the Ronald McDonald house during my stay at the hospital. After I got discharged from the hospital, we as a family decided that it was our turn to give back and started volunteering at Ronald Mc Donald House serving meals.
Vani Sharma: When I volunteer and see others getting inspired by my work, it further encourages me to do more. The smiles on the faces of people I serve also inspires me.
What has been the most rewarding part of your work?
VS: I believe that no act of kindness is small. While I cannot make a huge difference myself, I can certainly make a difference for the person I am helping. The most rewarding part is to see others getting inspired by my work and join me to help.
AS: When the people I serve thank and appreciate what I do, the smile on their face has been my strongest motivator. This smile drives me to do more for the communities we live in. When I do this with my friends there is even more fun doing service. As the saying goes, "The more the merrier".
What have you learned through your experiences as a volunteer?
AS: My biggest learning has been that people in this world want to volunteer but they just need a little nudge to get them going. I feel very lucky and blessed to be able to help someone in need and believe that volunteering helps build bonds with various individuals and the community as a whole.
VS: Every little thing that you do to help someone and make a difference will have a long-term positive impact on the communities even though it does not appear that way in the short term.
Are there any future partnerships, programs, or events that you are excited about?
VS: In the future I would like to start an organization called "Shine Bright". The purpose of this organization will be to inspire people to give back and be the change for people.
AS: While I have a lot of ideas for the long term, in the short term I am excited and looking forward to do a Happiness Wall at Ronald McDonald House in the month of March.
Why do you think it's important for others to give back?
AS: I believe that it is a divine blessing to be able to give back. Everyone in this world deserves to be happy and I feel very fortunate and satisfied when I see a happy face. Everyone deserves to experience the happiness of giving and hence it is important for everyone to give back.
VS: I consider myself very fortunate and blessed and one way to make others feel the same is by giving back.
What do you want people to learn from your story?
AS: I just want to say that it is never too late to give back to the community and make a difference in someone's life.
VS: I would say, use every opportunity to help out, there is no act of kindness that is small, it dosen't have to be big or time consuming , even a smile can bring a change and make someone happy.
Do you want to make a difference in your community like Anitha and Vani? Visit All for Good for local volunteer opportunities.
Share this post