Inspired by Own Experience, Teenager Donates Hundreds of Blankets to Hispanic Children In Need
Moving to a new home can be a nerve-racking change for any child, but moving to a place where you don't speak the language and don't recognize anything from your neighbors' faces to the climate is especially terrifying. Cecille Figueroa Narvaez experienced that herself at just six years old when she and her family moved from Puerto Rico to Ohio. Years later, while volunteering with her mother at the Hispanic Outreach Program in Springfield, Ohio, she felt a connection with some of the children who described being cold and scared when they first moved to the United States. After some brainstorming with her mother about how to help comfort the children, Cecille founded Warm Hugs, a nonprofit that provides blankets to Hispanic children in need in Ohio, Missouri and near the U.S.-Mexico border.
Since founding the organization three years ago, the fifteen-year-old has helped to donate over 1,000 blankets to children dealing with the sometimes scary and stressful process of coming to the United States. Throughout the year, Warm Hugs holds several fundraisers at schools and businesses to collect blankets and monetary donations, which are then distributed to children through churches. Cecille said the children react immediately with smiles, thrilled to have a blanket that is just theirs to keep.
For helping to put a smile on children's faces during a very frightening period of their lives, Cecille is today's Daily Point of Light Award recipient. Points of Light spoke with her to learn more about Warm Hugs.
Describe your volunteer role with Warm Hugs.
I am the founder of Warm Hugs. I started it back when I was 12 years old, so about three years ago. We raise blankets for Hispanic children in need and refugees in need. We distribute it around the Dayton area, we went to Cincinnati, we go around to as many places as we can. We have an alliance at the border now where we send blankets over there and they distribute it to children who have newly come to the United States. We are starting new places in Indiana where I go to school and also in St. Louis where my brother goes to school. We raise blankets and funds to get blankets and we distribute it to children in need.
What gave you the idea to create Warm Hugs?
My mom works at the Hispanic Outreach Program in Springfield, Ohio, and I used to volunteer with her. I would talk to the kids who told me some of their stories about coming across the border and asked them what they felt. A lot of them said they were cold and very homesick and scared. Whenever I'm scared or very cold, I always like to use a blanket. Me and my mom were like, you know what, getting a blanket is a small thing but it could make a big impact, so we started brainstorming about ways to get blankets and money to see if we can make this into an idea and it kind of just took off from there.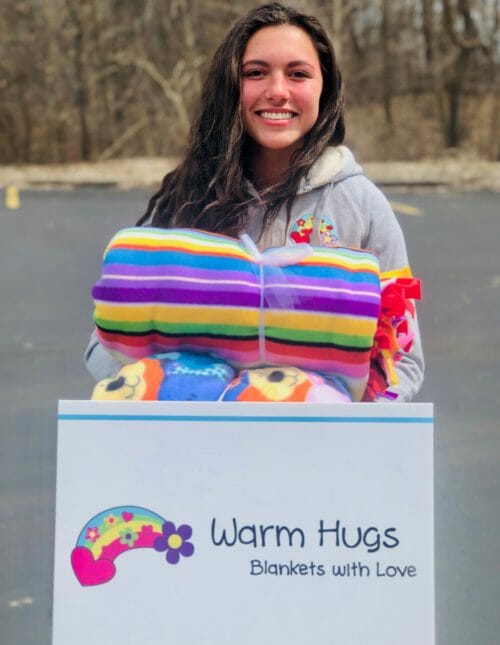 What drew you to specifically help children who are new to the country?
I'm Puerto Rican and I moved to Ohio when I was about six years old. I didn't know any English when I came here and I learned it here within a year with the help of the community and the school. I remember coming here and I didn't know the language, I was very cold, very confused. Of course I had my parents and my brother with me, but it was still very shocking to move all the sudden and to such a different place with completely different people and different ways of life. So when I wanted to help out people, I wanted to help Hispanic children because I speak Spanish, I can connect to them, and I had gone through some of the things they had gone through. I can relate to them very easily and I can communicate with them because most of them don't know English very well and finding someone who speaks Spanish, to them, is more comforting and makes them more at home. I definitely wanted to help out Hispanic children and then we started [helping] refugees because we saw a need with the refugee children as well, so we crossed over to both of the groups so as many children could be helped as possible.
Can you describe what a drop off is like?
We have an event usually at a church. We get a rough estimate of how many girls, what ages, how many boys, what ages, and we take blankets accordingly. We pack them up the day before and we take it over, and we basically set up a little table so when the kids get done doing a mass or doing a service or something like that, they come by and pick it up. What usually happens, I stand at the front of the table and they say which one they want and I grab it for them. I give it to them and sometimes they give me a hug. It's kind of a quick little grabbing of the blankets but it's so cute just watching them walk away really happy and go to their parents and jump up and down. It's one of the best things in the world.
What would you want people to know about the children you are helping?
I want them to know that they are children no matter what. It doesn't matter their ethnicity or where they come from, they're children. They're here to have a better life and they need as much help as any other child. A lot of people think that politics get in the way but the bottom line is that they're children and they need help and we should do the most we can to help anyone, including people who are new to our country.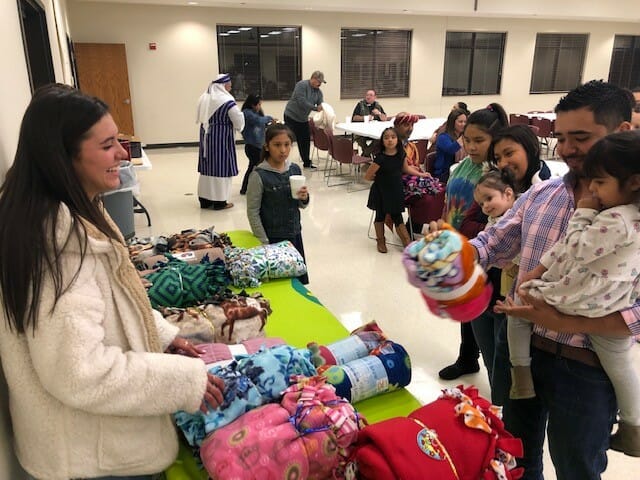 Are there any future partnerships, programs, or events that you are excited about?
My brother is starting a chapter in Missouri for Warm Hugs so we're very excited for that because we really want to start permanent places where we can have people volunteering. So my brother is starting that off and I'm going to continue it. We have some friends who want to do the same at different schools, so building branches of Warm Hugs in different places like schools or different organizations that we're starting. It's very exciting because it's more permanent and it can have a lasting impression on the organization.
What's been the most rewarding part of your work?
The most rewarding has to be knowing that I'm making a difference in a kid's life. Even if it's giving them a small thing like a blanket, knowing that can change their aspect on life or their mood if even for a week, that makes everything worth it. These kids, they really need support and just a small blanket makes them so happy. The most rewarding [part] is knowing that if I'm helping even one kid, it's enough.
Why do you think it's important for others to give back?
I believe there can be a lot of positive change in the world, and a start to changing the world in a more positive way is volunteering and getting people to help other people out of the goodness of their heart. If people started volunteering more, there's more people that are going to get help and it will be an overall better world because people are taking care of each other and caring.
Do you want to make a difference in your community like Cecille? Click here for local volunteer opportunities.
Share this post