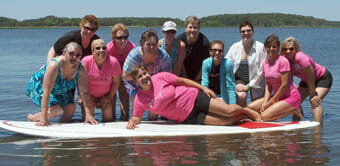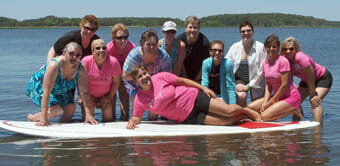 The day after Jeanine Patten-Coble was diagnosed with cancer, she took a run to clear her head and figure out how she was going to tell her son. On her route, she ran past a group of beach homes that looked abandoned. And it was then that she conceived an idea that could help other families in her situation: donate beach vacations to families battling breast cancer.
Jeanine's organization, Little Pink Houses of Hope, provides free week-long beach vacations for breast cancer patients who are currently in treatment. Based in Burlington, NC, her foundation has served more than 300 families in the past four years, offering loved ones the chance to reconnect and take a "break" from cancer.
Jeanine partners with beach communities and gains local support including donated vacation homes, hosted activities and donated food for Little Pink Houses of Hope families. Little Pink Houses of Hope hosts 14 retreats each year in eight states and the Virgin Islands. Each retreat is staffed by volunteers, and brings the local community together to celebrate these families. Little Pink Houses of Hope focuses on giving hope to a group of people whose lives become overtaken by doctor visits, chemo, financial strain and, in many cases, a grim diagnosis. Many families that participated in a retreat in a prior year come back the next year to volunteer.
There are many resources and support groups for people battling breast cancer, but, according to Jeanine, there are few resources for caregivers and kids outside of the clinical environment. "Once you are personally affected by cancer, you understand how the diagnosis affects caregivers and families," she explains.
It's common for cancer patients and their families to think in terms of "living with cancer." Jeanine prefers to focus on the "living" part. Her unique efforts to facilitate quality time for families so they can heal together makes Jeanine a Daily Point of Light.
What guidance does Jeanine have for others seeking to make a difference by doing good in their communities? "Getting a front row seat to the goodness in the world is all about taking the first step and saying 'YES,'" she says. "Start with what you love or what moves you, or even what scares you, and throw yourself in … all in."
Share this post