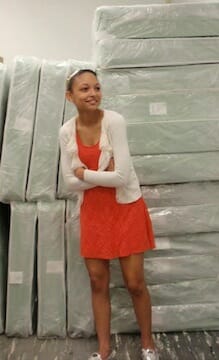 Meet Jessica Collins, today's Daily Point of Light Award winner. Read her story and nominate someone you know as a Daily Point of Light.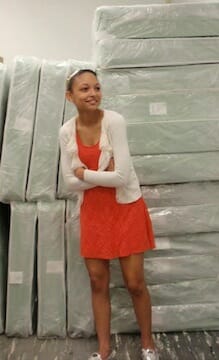 Jessica Collins was blindsided by "The Blind Side," the movie based on the life of Michael Oher, who rose from poverty to become a successful NFL player. Ten years old when she saw the 2009 film, she only expected to be entertained.
But a scene in the film moved her toward something greater. Oher's character, upon being given a bed in his teens, says he never had one before. Back at home, Jessica asked her parents if there were really children in the U.S. who didn't have beds. When she learned it was true, she asked if she could donate a bed to a family as a Christmas project.
With that simple act – and with the help of Jessica's mother and grandmother – Jessica was on her way to creating A Place to Sleep, an organization that has provided beds to more than 320 children in need in Shelby County, Ky., where Jessica lives.
"Usually at Christmas, instead of exchanging gifts, we would purchase items from the Salvation Army Angel Tree," says Jessica' mother, Maree Collins, referring to a Salvation Army program that matches donors with children whose families are unable to buy holiday gifts. "After that movie, Jessica asked if we could give a child a bed instead. I called the outreach coordinator at Jessica's school and asked if there was a need. She said that, yes, there were kids from the school sleeping on floors, and suggested a family with two children to us. We went out and bought bunk beds for them. They were so excited. They were jumping up and down on them."
Word of the gift spread quickly. Soon Maree was getting phone calls, some from people in the area who needed beds for their own kids, and some from people who wanted to donate beds.
"I thought we'd just be doing it once," says Jessica, now 14. "But people began calling us and e-mailing my grandmother."
"We've never had to advertise," says Maree. "Very soon after Jessica started A Place to Sleep, word had reached the schools and churches, and then the media. And we've always had a waiting list for beds."
Jessica has been featured twice on the local television news. One station gave her a $500 community service award, which Jessica gave to her own organization; $500 is exactly what it costs A Place to Sleep to purchase a set of bunks with all the bedding, thanks to a partnership the group has formed with a locally owned store, Tracy's Home Furnishings, which provides the beds and bedding at cost.
"All of the beds we have given to children were either donated directly to us or purchased with funds raised in the community," says Maree.
After four years of operation, A Place to Sleep holds a prominent place in the community. Jessica works with service coordinators at every school in Shelby County to determine the need for beds. The group has been assisted by almost 100 volunteers. Jessica's church, First Presbyterian Church of Shelbyville, has declared A Place to Sleep an official ministry. Jessica speaks regularly to churches and community organizations to raise awareness of the need for beds among low-income households. She has received several awards for her service, including being named a "Kentucky Ambassador" last year by a former state governor.
"I'm very proud of her," says Maree. "She has a kind heart and she works hard. She really sees the difference when a child has a bed. She sees the joy it brings to their hearts. It's exciting to be part of it."
Share this post