Meet Tom Costello, founder of The Joy of Sox, today's Daily Point of Light Award winner. President George H. W. Bush, who founded the award and is celebrating his 90th birthday today, has made a special contribution to The Joy of Sox (see below). Nominate someone you know as a Daily Point of Light and honor President Bush for his birthday by pledging to serve at BeOne.PointsofLight.org.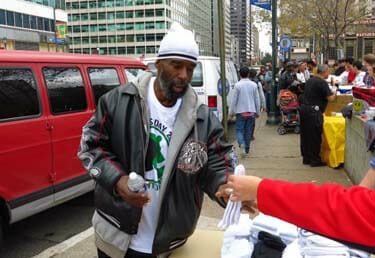 Joy of Sox volunteers hand out socks to the homeless next to Love Park in Philadelphia.
Socks are among the most needed items at homeless shelters, yet among the least-often donated. According to Tom Costello Jr., founder and "Chief Sock Person" at the Philadelphia-based nonprofit The Joy of Sox, even regular donors of clothing such as coats and pants will usually wear their own socks until they have holes and then throw them away. Because of the shortage, the nation's homeless population is constantly at risk of serious foot disease and, during winter months, in severe danger posed by the cold.
Since Costello founded The Joy of Sox in 2011, the organization – which he operates from the back of his house – has distributed about 157,000 pairs of new socks to the homeless population of the Philadelphia metropolitan area.
Hundreds of volunteers, including students from more than 40 high schools and from Villanova University and Cabrini College, have helped the organization by holding sock drives. In addition, The Joy of Sox raises funds that it uses to purchase new socks at discounts from various suppliers.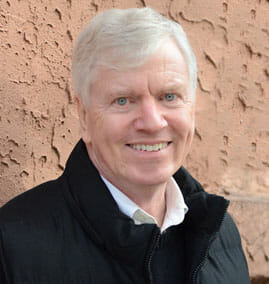 Tom Costello
Costello says the chief goal of the organization in Philadelphia can be summed up by its initiative known as 1.2 Million Happy Toes.
"There are 10,000 homeless people in the Philadelphia area," says Costello. "We want to grow to the point where we are able to supply all of them with a new pair of socks each month. That's 10 toes on 10,000 people 12 times a year, or 1.2 Million Happy Toes."
Costello says the gratitude he has witnessed from homeless people served by the organization has been overwhelming.
"Many people tell me that socks are the most important clothing item," says Costello. "One homeless man named Kiwi told me socks are more important than food. He said that he knows of many pantries and shelters where he can get food, but that there's no way he can walk the streets of Toronto without socks."
In 2012, The Joy of Sox was featured in O, the Oprah Magazine. (Read the piece here.) Comcast, which has supported The Joy of Sox with donations, has interviewed Costello about the organization on its program, "Comcast NewsMakers." (Watch the segment.) The Joy of Sox also received a 2013 Top-Rated Nonprofit Award from GreatNonprofits, a national organization that rates charitable groups.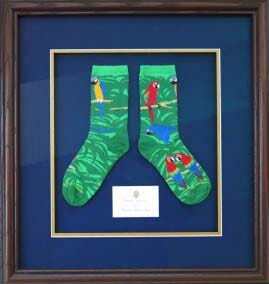 President George H. W. Bush donated these socks to The Joy of Sox to raise money. The card reads, "With the compliments of President George Bush."
Last December, The Joy of Sox received a surprise contribution, a framed pair of socks with a tropical design from someone known for his colorful taste in socks, President George H. W. Bush. The group plans to auction the item to raise funds for new sock purchases.
Costello, who says his next goal is to open a new chapter of The Joy of Sox in a second large urban area, explains that he was an unlikely person to found the organization.
"For much of my life, I was 'homelessphobic,'" says Costello. "I had a real fear of being around homeless people, and years ago, my wife had to drag me to volunteer at a local soup kitchen and shelter."
It was his wife, Nancy, who later told Costello about the problems the homeless face from lack of socks. A few years after his first attempt, he returned to the same shelter at Christmas to give out socks.
"One woman started crying and told me no one had ever given her socks before," says Costello. "Then she hugged me and I hugged her back. It was the first time I had ever touched a homeless person. It was my epiphany moment. I knew immediately that I had to be the sock guy."
Share this post